In ancient times, a wedding was celebrated for a whole week. Nowadays, few people can afford such a scale of celebration, so the wedding ceremony has been reduced to two days. What happens on the first day is clear to everyone. But what to do on the second day of the wedding celebration, how to keep the newlyweds and guests busy?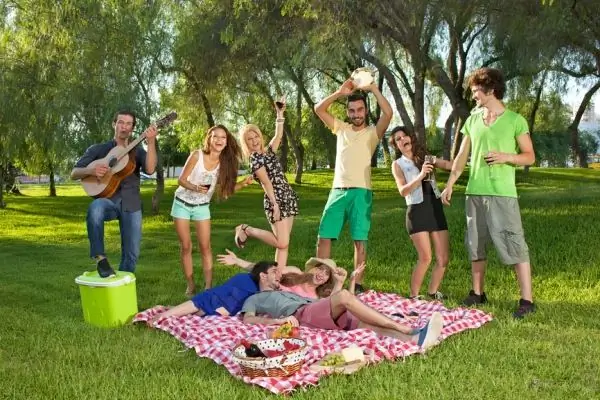 Preparing for the second wedding day
When preparing for your second wedding day, the first step is to find a place to celebrate. Often (subject to good weather), this event is held in nature. For celebrations, you can rent a recreation center. When preparing for the second day of the wedding, it is advisable to think over the list of guests in advance. Usually it is several times less than on the first day of the wedding ceremony.
This day should be "resting". After a stormy and long celebration with songs, dances and competitions, guests (and newlyweds) want to rest and relax. That is why, when organizing the second day, you need to find the best place to relax. Such a place can be a river bank, lake reservoir, park, water park, etc. Naturally, you only need to celebrate your second wedding day outdoors with close friends or relatives.
Food for the second wedding day
The preparation of food during the celebration in nature falls entirely on the shoulders of the newlyweds and their families. It is better to buy food in advance, even before the first solemn day. Dishes for the second day of the wedding may not be as varied and nutritious. After the main wedding ceremony, the guests are sure to be full. You can also take those products left after the banquet for a picnic. As a rule, kebabs, salads, snacks, pilaf, etc. are prepared outdoors.
Do you need music?
Undoubtedly, the second day of the wedding is also a holiday, so musical accompaniment should be a must. At tourist recreation centers, music is organized immediately, but what if a trip is planned to a reservoir or a park? In this case, you can take a portable music center and discs with your favorite songs.
The second wedding day should be no less bright and festive than the first. Therefore, it is necessary to prepare for it as thoroughly as for the wedding itself.