A wedding is undoubtedly an event, the memory of which should remain not only in memories, but also in high-quality photographs. Who can you entrust the filming of such an important event? It is impossible to make a mistake here, therefore the choice of a wedding photographer should be approached with the utmost responsibility.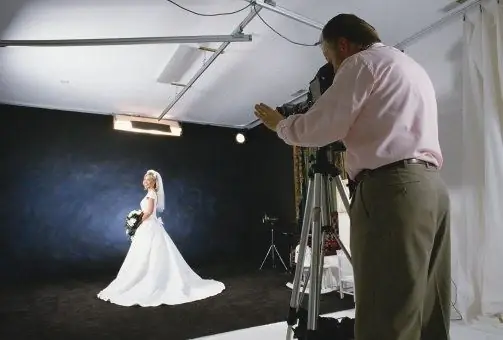 Instructions
Step 1
The easiest method and at the same time the most reliable is to use the recommendations. Ask your friends who took pictures of their celebrations, look at the wedding photo albums together, decide whose photographs impressed and delighted you the most. Feel free to take the coordinates of a specialist if you like the result of the work.
Step 2
Another good and effective method of finding a photographer is to communicate on the forum of your city in the appropriate section. Check with recent brides who filmed their wedding. You will certainly be recommended a good specialist, and also warned against those whose work did not meet high expectations.
Step 3
View advertisements on the internet and bridal magazines. Similar magazines, advertising brochures and business cards of wedding photographers can be found in registry offices, wedding salons, hairdressers. However, if you are searching for a photographer by listing, carefully read his portfolio. Check out his creations on the Internet, and then, in person, see them in printed form.
Step 4
Specify the manner of work of the photographer - he specializes in "reportage" or "staged" shooting. Someone torments the bride and groom throughout the wedding, forcing them to smile, pose, taking them away from the guests to all sorts of special photo sessions with that birch tree, etc. Others, on the contrary, are filming, like a report, as if from the side. You may not even notice the presence of such an invisible photographer, but you will end up with excellent photos. Each of these styles has a right to exist. Think about how it is more comfortable for you.
Step 5
If you have special requests (whether it is not to take pictures of you in profile or change the color of your eyes in photographs) - find out in advance if the photographer can fulfill them. Be sure to check with the photographer if he is engaged in photomontage. Not everyone does the processing of photos, their registration in albums and books, as well as the printing of pictures. Discuss all the details, including payment for services, ashore. Not a single detail should come as a surprise to you.