When you come to a holiday, it is always pleasant to sit not only at a richly set table, but also at a beautifully decorated one. People with fantasies will always find a way to add zest to the festive table decoration. And often the decoration of a bottle of champagne becomes such a highlight. So, if you want to please the newlyweds, the birthday person or the hero of the day, do not be too lazy to beautifully decorate a bottle of champagne. Admirable glances will be provided for you.
Instructions
For a birthday or anniversary.
Here you can use numerous bows, lace, beads. If the birthday girl is young, add bright, mischievous colors to the design, for example, tie a bright ball on a string to each bottle. Instead of a label, glue a beautiful DIY bow (in extreme cases, you can buy it in a store). You can come up with a design depending on the hobby or hobby of the birthday person. For example, if the person is boxing, hang small boxing gloves or a T-shirt and shorts over the neck.
Jubilees often have their champagne labels changed. With the help of programs that edit images, they create their own label: for example, the hero of the day, Petrov, will certainly really like "Petrovskoe sparkling wine, created on the best plantations of the gardening partnership"Ogonyok", of course, with a photo of the hero of the day.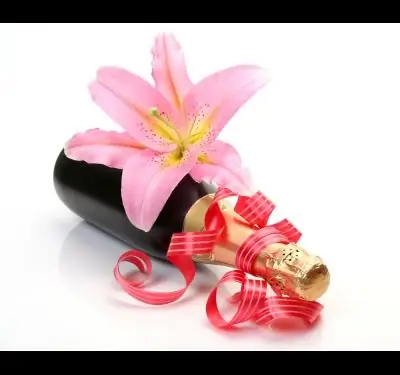 For a corporate holiday.
It all depends on the profile of your company. Depending on this, you can play with the names for the champagne and also make new labels. At a construction firm, place the bottle in a brick-styled (or painted) well, but bakers often put brushwood or bacon roses around the bottle. It's all about your imagination. Even just balls, multi-colored ribbons and bows will look beautiful.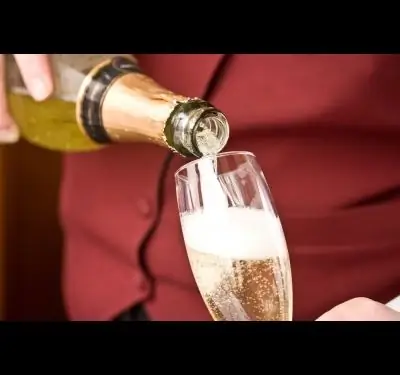 For the New Year.
New Year is a time of miracles, a time of warmest wishes. And you need to prepare for it in advance. Agree, it is much more pleasant to open champagne with the label "Everything will be fine" or "May happiness await you in the New Year!" To the chimes. Decorate the bottles with snowflakes, "snow" fringes made of cotton wool or lace, wrap them in serpentine, rain or tinsel. And of course, don't forget about Santa Claus and Snegurochka. They can also be made as a very symbolic red and blue case with hats. Well, or also put a toy on the neck with magnets or elastic bands - an animal symbolizing the coming year (sold in specialized stores).