In anticipation of the New Year, many believe that their little children will sleep to the chimes. It is not always so. The atmosphere of expectation of the holiday reigning in the house will certainly be transmitted to the youngest family members, and it will not be easy to put them to bed. So you should take care of the children's menu and entertainment in advance.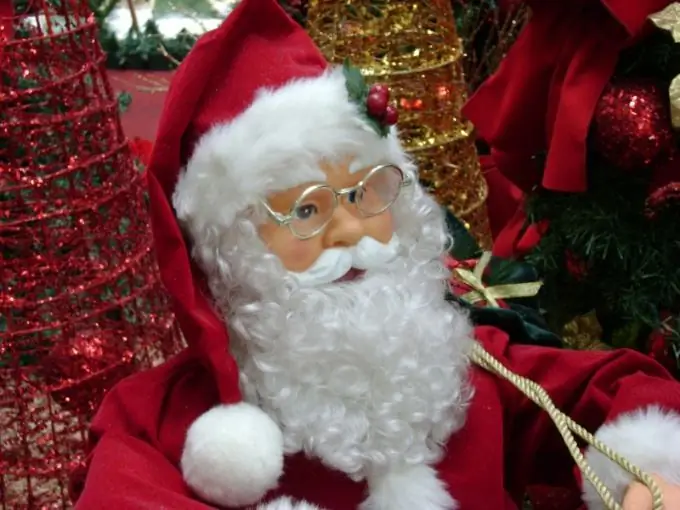 Instructions
Step 1
Prepare your usual New Year's meals, keeping track of only the amount of spices and salt used. To make the table elegant, decorate each dish with edible figurines: mice and bunnies made from boiled eggs, a dragon made from cucumber or bell pepper. Make beautiful gift wrapping for guests. Let the children help you in the process, this will create a mood for them long before the upcoming holiday.
Step 2
Come up with original versions of the performance of rhymes and songs about the New Year. Have your toddler recite poetry while crawling around the tree or jumping on one leg. Such a task requires not only confident command of the text, but also develops concentration, coordination and artistry. After that, distribute colored paper, scissors, glue to the children and spread a Whatman paper on the floor. While they are passionate about creativity, adults will be able to chat at the table.
Step 3
Try to channel the energy of young children into a peaceful channel. For example, give them a speed task. Bring some cones from a nearby park before the holiday. When the kids start bullying, scatter objects on the floor and arrange pre-made baskets. Invite them to compete in the speed of collecting cones, whoever collected the most - he won. Or replace the bumps with balloons.
Step 4
Consider gift-giving options. You can leave a present with your neighbors in advance, asking them to bring it under the door at the agreed time. You can call them before that. Gather the children and tell them the story of how Santa Claus goes from house to house and gives gifts to the little ones, leaving them on the doorstep. And then the doorbell rings. Here the moment will come to open gifts, and Santa Claus can be seen next time.
If the children are over two years old, you can invite Santa Claus and Snegurochka to your house, the actors will play a small scene with congratulations and give the kids a present that you will prepare for them the day before.
Step 5
Round off the party with a tea and cake. Consider gifts, take stock, take an interest in impressions. Let the kids have only good memories of the New Year. Put the children to bed and return to the guests.