More and more young couples decide to organize a wedding celebration without a large number of guests and a chic banquet. In the wedding industry, there are two radically different approaches to organizing: a big event with the involvement of professional hosts, florists and decorators, or the absence of any event.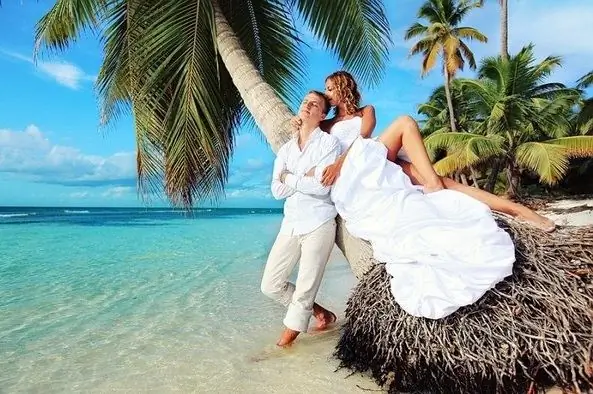 Wedding day is an important event in the life of a young family. Newlyweds should realize that this is their day and only they should decide how to spend it. Some couples are afraid to overstep stereotypes and refuse guests. But a budget small wedding has its advantages:
- it significantly saves money (do not worry about whether the waste will pay off with gifts from guests);
- no need to try to surprise your guests with the menu or design, worry about their opinion;
- you can organize an original holiday that will concern only two.
This option is ideal for those who do not have a large wedding budget. Many are familiar with the situation when guests are invited to a banquet "for the sake of decency." Then the organizers of the holiday all evening must put up with the fact that they were obliged to call those whom they would not want to see. And the wedding turns not into a celebration of love between two, but into a banal feast with beautiful toasts.
Having decided to refuse the banquet, you need to inform your friends and relatives about it. You can invite them to the official registration of marriage, and then plan the day together. You need to choose activities that will be remembered for many years. Some options for spending time after registration:
- organize a beautiful photo session in an unusual place: in any castle, in a beautiful city;
- ride horses;
- swim with dolphins;
- try all the rides in the nearest amusement park;
- rent a room in an expensive hotel for the night and spend a romantic evening together.
A popular wedding option in many countries today is a trip to an exotic country. Immediately after registration, the young go to the plane and fly away to rest. It may require as much money as a banquet for 30-40 people, but the vacation will give more pleasant memories in 10 or 15 years.
When planning a wedding, you need to try to get rid of established stereotypes and scenarios. The more unusual the holiday will be and the more pleasant it is for two, the more warm memories it will evoke in the future.