In order for the appropriate atmosphere to reign in the house during the New Year's celebration, you need to decorate the rooms with Christmas attributes and decorations. The very process of transforming an apartment turns into an interesting and exciting game that brings no less pleasure than a holiday. And in an elegant room it is much more fun and cozy during the holiday.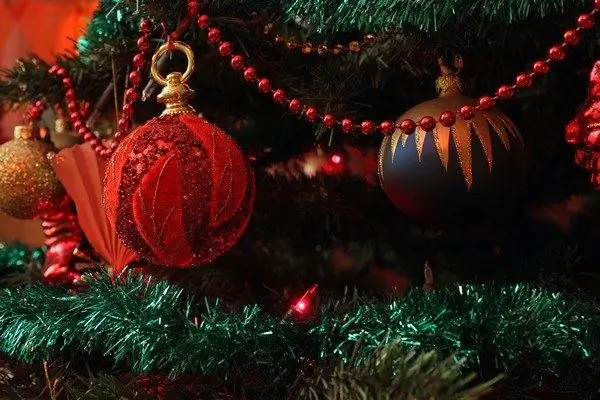 It is necessary
- tree;
- candles;
- Christmas decorations;
- tinsel;
- vases, jars, glasses;
- wire;
- postcards;
- Garlands.
Instructions
Step 1
The main decoration in the house for the New Year is, of course, the Christmas tree. A week before the holiday, buy a fluffy, green Christmas tree or pine of a suitable size and place it on the balcony. On holiday eve, bring the tree into the house and allow it to adapt to room temperature. Soon the needles will straighten, and you can decorate the Christmas tree. You do not need to use a large number of toys and decorations, just hang a few balls, picking them up so that they match in color, and complement the composition with tinsel and electric lights.
Step 2
If earlier you had to make decorations yourself, cut snowflakes out of paper, glue garlands, draw New Year's pictures, today you can buy everything you need in the store. Don't get carried away with a lot of Christmas items, pick up some interesting things that will look good in the room and go with a decorated Christmas tree.
Step 3
You can hang tinsel and garlands on the walls in the old fashioned way, but it is better to show imagination and decorate the room outside the box. For example, make snowy spruce twigs - grease them with glue and sprinkle with grated Styrofoam. Wrap the Christmas tree tinsel on a wire, give it an interesting shape and hang it on a chandelier or mirror. Place Christmas tree baskets on the TV or table.
Step 4
Electric garlands do not have to be hung on the tree; they can be used to create an unusual, but unusually beautiful decoration. Place some old but working garlands in small glass jars, sprinkled with sequins, chopped foil, and broken glass toys. You will get original lamps that can be placed around the room or placed under the tree. And if you put garlands in crystal vases, the lights will look more mysterious, and the patterns on the vase will look like frosty windows.
Step 5
Candles are an obligatory attribute of the New Year; beautiful candlesticks are also needed for them. You can also make them yourself - take the hard fruits or vegetables available in the house, cut a hole in the middle and insert a candle. You can also put them in transparent glasses filled with salt - you get the effect of snow. Arrange candlestick compositions by the mirrors to add mystery to the New Year's atmosphere.
Step 6
Buy or draw Christmas cards. They can be fixed on a cord or rope with curly clothespins and hung like a collage in a prominent place in the room. This garland can also be used as a Christmas tree decoration.
Step 7
The remaining Christmas tree decorations, garlands and decorations can be tied into one volumetric bunch and decorated with it on mirrors, doors, or simply hung on the wall. From the remaining branches and cones, make Christmas compositions - arrange them in a circle on a large plate or tray, and put a candle in the center, decorate with rock crystal. You can make leftover branches and toy wreaths by attaching them to bent wire.