There are many traditions in Russia regarding the celebration of the New Year. However, not everyone knows that most of them came to us from different countries and cultures. This happened because Christianity, adopted in Russia, destroyed pagan traditions, and besides, the nobility began to bring new customs to Russia, which were then adopted by the people.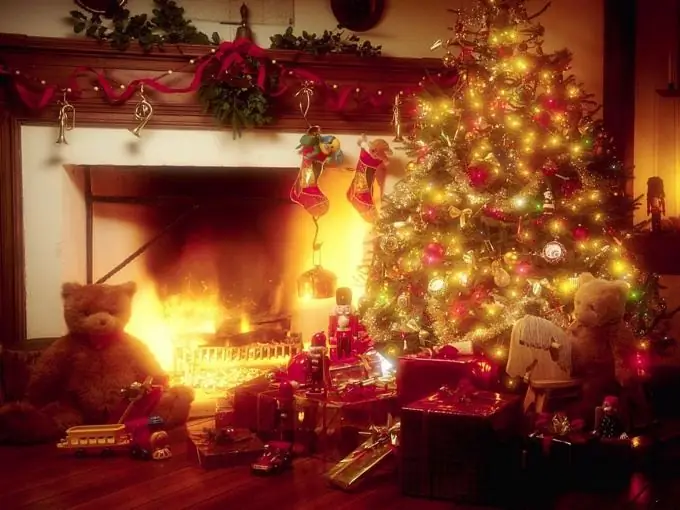 Instructions
Step 1
In each era, symbols and rituals were introduced into the celebration of the New Year, which then became traditional. Paganism managed to bring to this day mummers and jesters, who can still be found on New Year's and Christmas holidays. Since the time of Peter the Great, it has become traditional to celebrate the New Year with a decorated Christmas tree, fireworks, to give gifts and prepare an Olivier salad. Before that, you could see pies and cereals on the table. In Soviet times, Father Frost and Snow Maiden appeared, which became an integral part of the holiday, as well as tangerines, champagne and the chiming clock.
Step 2
It is customary in Russia to celebrate the New Year at home. Most of the residents of our country spend this holiday in a family circle with relatives and friends, an integral part of which is a feast, watching entertainment TV programs and the President's New Year's address.
Step 3
On New Year's Eve, people make wishes under the chimes, give each other gifts. Some families order Santa Claus on this occasion, or one of the guests becomes one of them. He gives the kids sweets and toys. Another tradition is to put gifts on the tree.
Step 4
Some people prefer going on a visit to this type of celebration. Ever since the time of Peter I, a tradition has emerged to visit on New Year's Eve, give gifts, congratulate each other, and arrange extensive festivities. But this option is more preferable for young people. Families with children and elderly people mainly choose the first option for the holiday.
Step 5
The program for celebrating the New Year can be very diverse. Usually these are funny contests, street fun, fireworks, firecrackers. Both kids and adults take part in them, who also fall into childhood on New Year's Eve.
Step 6
A very small percentage of Russians celebrate the New Year in a restaurant, nightclub, dacha or abroad. It is not for nothing that the most important holiday of the year is traditionally considered a family one.