On my mother's birthday, I want to please her with a special, extraordinary gift. There are many ways to make an unforgettable DIY surprise. One of the options is to make a miniature cosmetic bag for the holiday. Such a handbag can be sewn by hand, without using a sewing machine, since a knitted cover will hide all imperfections and irregularities.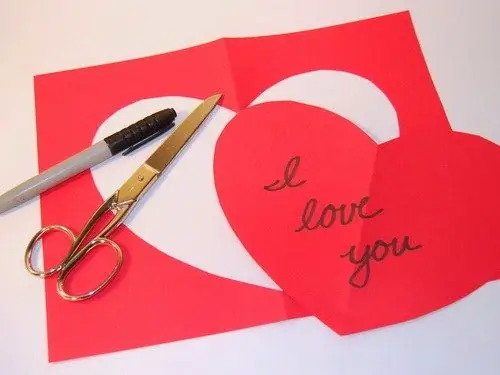 It is necessary
- a piece of fabric measuring 20 by 40 cm;
- zipper with a length of 17 cm;
- 50 g of Iris yarn;
- hook;
- stitching needle;
- threads to match the fabric.
Instructions
Step 1
Choose the material for your future cosmetic bag. It can be a piece of tapestry, velor, velvet, or some other beautiful fabric. The lining is made of satin, special lining or ordinary cotton fabric. For a knitted cover, choose a thread that matches the color of the top of the product.
Step 2
Build your pattern on a piece of paper. To do this, draw a 17 x 12 cm rectangle, cut it out and circle it twice on the wrong side of the fabric. Cut out the details, leaving 1.5 cm for the hem. Sew in the zipper. Fold the pieces with the wrong sides inward, aligning the edges. Sew them along the sides and bottom. Turn the purse inside out.
Step 3
Make a lining bag in the same way. Its size should be 0.5 cm smaller than the cosmetic bag itself, so that the lining lies flat. Turn the piece out so that the wrong side of the fabric stays outside. Insert the lining into the purse and hem gently from the inside at the top edge.
Step 4
Crochet the cover to fit your bag. It consists of one rectangular piece, which you then bend in half. A regular mesh of double crochets or a simple unpretentious pattern will look beautiful. If you know how to knit complex elements, fill the canvas with large openwork flowers.
Step 5
Place the purse in the cover, sew the details discreetly at the very top and grab the bottom with thin threads. Tie a thin handle string if desired. A cosmetic bag as a gift for mom is ready. You can complement it with some decorative element: a beaded butterfly or a small satin bow.
Step 6
Make a birthday card for Mom using colored cardboard. Decorate it with an applique depicting a heart, flowers, butterflies, etc. Paste the inner side with light-colored paper and write warm wishes.