Mom's birthday is an excellent event, and besides, it is an occasion to prove how much and how much you love her! Let's say the money has disappeared somewhere again, and the holiday is just around the corner, you need to act decisively and with a smile. When we were little, we did not have a question of what to give, and paper bills were completely unnecessary. So why are we worse now? Try it!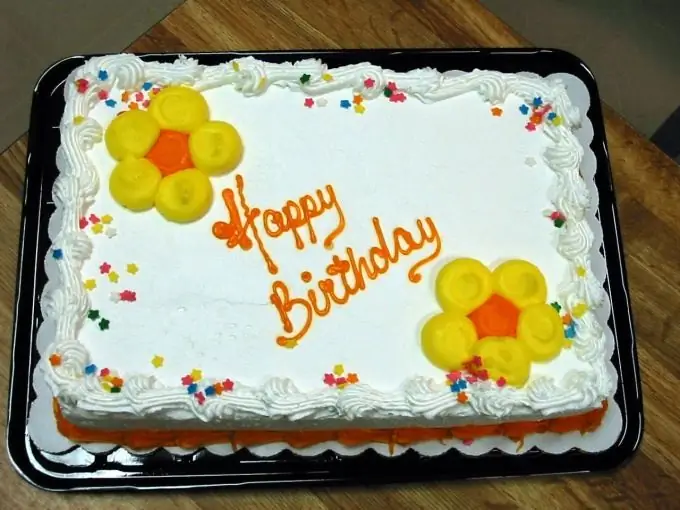 Necessary
Cleaning and detergents - for cleaning, a vase and wildflowers - for a bouquet, balls and colored paper, fishing line, beads - for garlands. Refrigerated food for treats, cardboard and stationery, and decorative ornaments for postcards. Computer, scanner, photos of mom in digital or paper form, music, blank disc - for making a movie
Instructions
Step 1
So, the holiday is already in a hurry with leaps and bounds on the threshold of your house. Time is short, let's get started. The day before your birthday, arrange with your dad, younger sisters, brothers, and girlfriends so that mom is very urgently called for a walk. For this, parks, shops, even cycling are suitable. It is necessary that the apartment remains at your complete disposal.
Step 2
Armed with all kinds of cleaning products and gloves, start your fight for cleanliness. Remove cobwebs from corners, wipe chandeliers, curtain rods, shelves with books and crystal, clear space of unnecessary things, knock out carpets, wash the floor. Ventilate the room, open all windows and doors, of course, if it is not a severe frost outside the window. Everything should shine and sparkle.
Step 3
Now, if there is a "piece of nature" near your home - a clearing, a garden or shrubs, try to collect a bouquet. Perhaps it will be lilac branches at the end of May or willow in spring, irises from a flower bed of a neighbor's grandmother. Only ask your neighbor for permission, so as not to be considered a thief. If the holiday is in winter, there is probably a beautiful pot with a flowering plant at home, attach a bow and put it in the center of the room - a trifle, but nice. Perhaps your girlfriend will help with indoor flowers: taking a scion and planting a new plant in a pot is half an hour of work. And for a mother, a lover of indoor flowers, this is a little joy.
Step 4
The room can be decorated. Pull a thin line or shiny thread diagonally across the room and attach balloons, paper bows, decorative beads, and chains to it. You can make garlands from colored paper, if there are assistants at home in the person of a younger brother or sister, they will be happy to teach you such crafts.
Step 5
The turn of the sweet pie has come. Use whatever is at hand. Who said that there must be a cake for a birthday? This can be a fruit salad, neatly placed in a rosette and decorated with an umbrella stick. Perhaps a festive dish will be jelly with fresh fruit or an ordinary charlotte turned into a tempting dish. Here, your imagination and desire to make something pleasant are in the first place, and not culinary masterpieces.
Step 6
Use stationery and decorative knick-knacks to make a gift card. Use beads, foil, rhinestones, dry sequins, ribbons and bows. Let the craft dry and write congratulations from the bottom of your heart.
Step 7
Finally, the main trump card. Calculate the time, this is the most difficult task of the whole day. If you are afraid of not being in time, start preparing in advance, but so that no one will guess. Arrange the photos of your mom in chronological order, from a one-year-old baby doll to a common family one. If it's all digital, great, if not, then scan it. Using a computer program, we will make a gift film for mom.
• Click on the "Start" button in the lower left corner of the screen.
• We go up with the mouse to the word "Programs".
• In the panel that appears, look for the phrase "Windows Movie Maker", click on it.
• The program window opens, in the left corner - step-by-step instructions for creating a movie. Import family photos, use photo and video effects, add your mother's favorite song. Save the resulting project and burn it to a CD. The disc can be attached to a postcard.
Believe me, there will be no limit to the joy of mom and household members. You will create not only a holiday atmosphere, but also make it childishly kind, sweet and pleasant.