In Iceland, winter holidays last for a long time: from mid-December to January 6th. The main celebration is Christmas, which is eagerly awaited and carefully prepared for. But Icelanders also celebrate the New Year brightly, noisily, on a grand scale both in Reykjavik and in the Icelandic hinterland.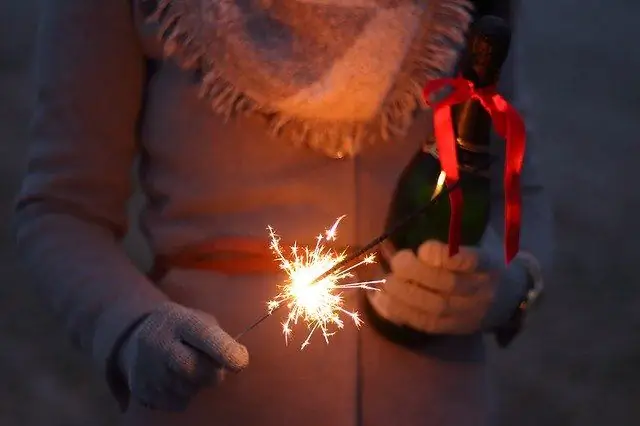 For Icelanders, the New Year is not associated with an abundance of various treats, although a festive late dinner is a tradition that they try not to break anyway. On the New Year's table, they usually put light snacks, various snacks and sweets, as well as a variety of drinks. On holidays in Iceland, they drink a lot of strong alcoholic beverages, and among non-alcoholic drinks, juices, soft drinks, teas and strong hot coffee with spices are held in high esteem.
New Years in Iceland begin to celebrate not after the chiming clock, but a little in advance. The pre-holiday evening on December 31 is filled with laughter, conversations, friendly communication, and meetings with relatives.
Around 19: 30-20: 30 Icelanders traditionally leave their homes, going for a walk along smart, brightly decorated streets. It is not customary to sit in four walls even in frosty weather.
New Year's Eve festivities in Icelandic cities are a bit like carnival parades. In a northern country, it is customary to leave the house either fully dressed in some kind of fancy dress, or at least wearing hoops with deer horns or a festive red cap.
Iceland is always trying to bring more light on New Year's Eve. According to a long-standing tradition, fireworks festivals are held in Reykjavik and other cities. Fireworks and firecrackers are launched into the sky since the evening of December 31, the whole action lasts hours until 4-5 am on January 1. At the same time, it is allowed to fire explosive brilliant fireworks both on the central streets and squares of cities, and on the territory of private houses.
Before the sky over Iceland on New Year's Day is covered with thick smoke from fireworks, in the evening hours you can watch the colorful, very beautiful Northern Lights.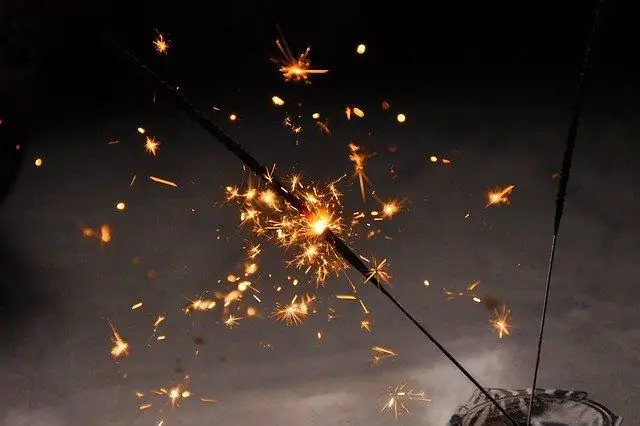 Another obligatory New Year's tradition in Iceland, also associated with light, is the kindling of huge bonfires. Such an event always attracts a large number of people. Both locals with children and tourists come to look at the flame blazing in the darkness. Nearly 100 bonfires break out across the country before the New Year begins. Approximately 10 large bonfires are lit in Reykjavik.
It is not customary to celebrate the holiday itself on the street in Iceland. Therefore, by 23:00, everyone is trying to disperse to their homes, restaurants and cafes, nightclubs. The launch of fireworks is temporarily stopped.
New Year's for Icelanders is not a purely family holiday. It is customary to meet him in a large company: with relatives, friends and acquaintances, with neighbors. Congratulations "Happy New Year!" in Icelandic it sounds like "Gleðilegt Nýtt Ár!"
In Iceland, they sincerely believe that a holiday should be noisy and bright, filled with music, laughter and conversation. Then all sorts of troubles next year will be bypassed, no evil spirits will be attached. And also Icelanders still believe that magical creatures, such as trolls, live in the vicinity of settlements and cities. During the winter holidays, they come to people. Therefore, on the street, among the crowd of mummers walking on New Year's Eve, you can meet mythical creatures. This promises good luck and happiness in the coming year.
Noise, din, music and fireworks continue until at least 3 am. After that, the streets of Icelandic cities gradually become empty. By 5-6 in the morning there is silence. All day on January 1, Icelanders prefer to rest, sleep and not leave their homes. The holiday and cheerful winter festivities continue with the arrival of late evening, and after that they last for several more days.