With the approach of May 9, the date of the great Victory Day, the question arises of how to congratulate war veterans on such a great holiday. No one doubts that those people who took part in the bloodiest hostilities need to be rejoiced and cherished. And there are many ways to congratulate them, you just need to choose the one that suits you the most.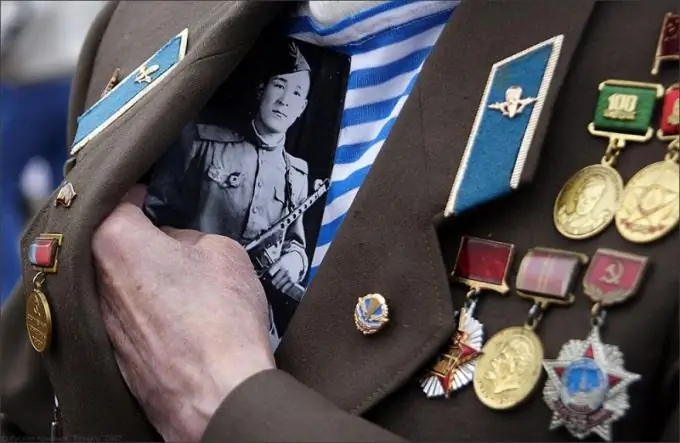 Necessary
- money;
- flowers;
- gifts for veterans.
Instructions
Step 1
Transfer money to help veterans. This is one of the easiest ways to show your respect, but at the same time, very necessary. Since the participants in the war are no longer young, they live on a pension and benefits, which are only enough for the things and products most necessary for life. Thanks to even the small amount of money you give, they will be able to afford a little more than usual. If you do not want to transfer money to the account of any public fund, donate it personally to the veterans. This can be done by coming to a meeting with them on the eve of the holiday. Decorate your gift beautifully, put your money in an envelope and hand it over.
Step 2
Check with your city's social welfare committee to find out what your community's veterans need. Some of them have a family that looks after and provides all the necessary for their hero. But, perhaps, some old people live completely alone and rarely go outside due to their poor health. Go to their house, help clean the room, cook dinner, and just chat. Often veterans simply lack human communication. Show that you are genuinely interested in it, and you will see gratitude in the eyes of the person who gave you a peaceful sky overhead.
Step 3
Go to the Victory Day parade and present flowers to the veterans. Buy a bouquet of beautiful roses and present at least one to all those who took part in the hostilities or simply helped the soldiers during the war. If financial resources permit, select gifts for veterans. Do not give something that can remind them of those terrible years. It is better to choose what will be useful for them in everyday life: blankets, beautiful table lamps, or something else. Another option is gift certificates to the hypermarket, where the veteran can choose what he needs.
Step 4
Take part in a festive concert. If you are good at singing, dancing or possessing any other talent, contact the organizers of the Victory Day gala concert. They are unlikely to deny you your wish to congratulate the veterans. The main thing is that any of your congratulations should be sincere. But, perhaps, the most valuable congratulations for the war veterans is to take care of them all year round, and not just on May 9.