A daughter's wedding is an exciting event for her parents and other close people. An original congratulation, in which a particle of a loving soul is embedded, will be remembered for a lifetime.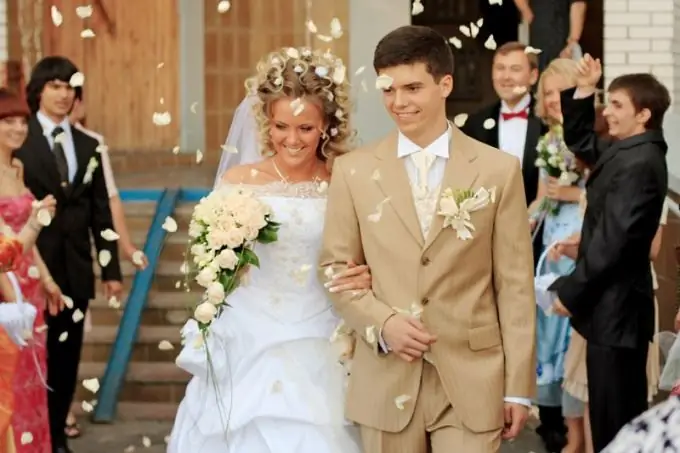 It is necessary
-prepared congratulatory speech;
- poems about the daughter;
- author's wedding card;
-album of memories.
Instructions
Step 1
Congratulations from parents at their daughter's wedding is the most exciting moment. Words and poems spoken from the heart and a memorable gift that will leave memories of this day for a lifetime will help you to make it unforgettable and unusual.
Step 2
Sit down and think carefully about what you want to say and wish for your adult daughter creating her family nest. Take a pen and a piece of paper and start writing down all the thoughts that come into your head, everything that you would like to say. Read and use these sketches to compose a short greeting speech.
Step 3
Go online and on congratulatory portals find poems that characterize your feelings for your daughter. And if the desire arises, then write them yourself. Buy a beautiful handmade wedding card and write down your poems.
Step 4
Get a beautiful, delicate album in pastel colors (just a photo album or a special album for scrapbooking). Get out all the photos of your daughter and make a selection, from her first days of birth to the present. If you have memorabilia (tickets to the circus, children's theater, your daughter's collection of postcards, etc.) use them to decorate the pages of the album, also make memorable inscriptions about childhood, adolescence. If you feel that you cannot cope, order such an album from specialists. On the Internet, find many sites with the services of these specialists. But first, decide, see what exactly you would like to do, in what style. To do this, visit scrapbooking sites, for example -
Step 5
On the wedding day, congratulate the young family and address your daughter with your own words, read poems and present an album that will remind your daughter of the parental home, of the warmth of the family hearth, which now she must create.
Step 6
Give the young couple a gift that they can later pass on to their daughter or son on the same day. Some kind of talisman, amulet, so that it becomes a family tradition. If you adhere to Christian traditions, buy a couple of icons with which you will bless your daughter and her chosen one for a strong union.