December is the time for New Year's parties in kindergartens, where children participate in various performances. Each role requires its own costume, and if the child plays in several productions at once, then the appropriate number of outfits is needed. Not everyone has the opportunity to buy them, because there is only one way out - to sew them on their own or make them from scrap materials.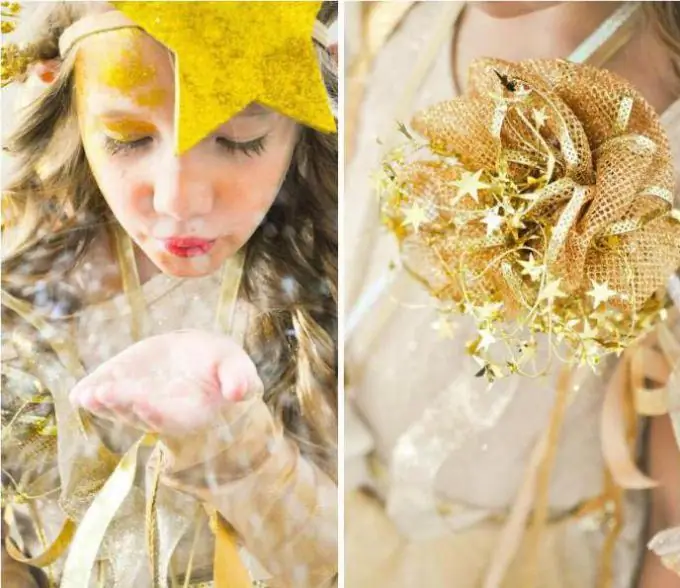 It is necessary
- one meter of silver fabric;
- 3 meters of white tulle;
- silver sequins in the form of stars;
- rubber;
- hot glue.
Instructions
Step 1
Cut the white tulle into strips 20-25 centimeters wide (the length of the stripes is twice the desired length of the skirt). Take an elastic band (its length should be 3-5 centimeters less than the child's waist), sew its ends together so that you get a vicious circle.
Fold the tulle pieces in half and tie them in a circle of elastic, being careful to place them at the same distance from each other.
Step 2
Cut out triangles from silver fabric (length of figures from 15 to 20 cm) and sew them to the elastic of the skirt with a blind stitch. It is important to remember that the skirt looks more interesting, the width of the triangles should be such that the base of all blanks in the end is equal to the girth of the elastic. If the child's waist is 50 cm, and 5 triangles are cut out, then their width should be 10 centimeters.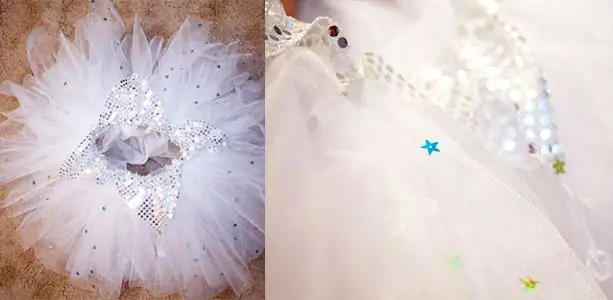 Step 3
Finally, decorate the skirt with multi-colored star sequins. Place them evenly over the entire panel of the product and glue.
As a "top" in a suit, you can use both an elegant blouse and a shiny top (to match the fabric), only they should first be decorated so that the set looks organic.
When drawing up a general image of the "star", it is advisable to weave ribbons of a suitable color into the hairstyle or to decorate the head with a diadem.