The wonderful New Year holiday is approaching, every day it is getting closer - how nice it is to think about it. New Year is a symbol of renewal, a symbol of a new happy life.
In winter, it is not very comfortable outside, it is cold and snowy. In such weather, I especially want to create an island of warmth and comfort at home.
It is not necessary to buy expensive New Year's decorations for decorating an apartment. You can create a truly festive atmosphere by decorating your house for the New Year 2014 with your own hands.
Below are some tips on how to decorate your home for the New Year.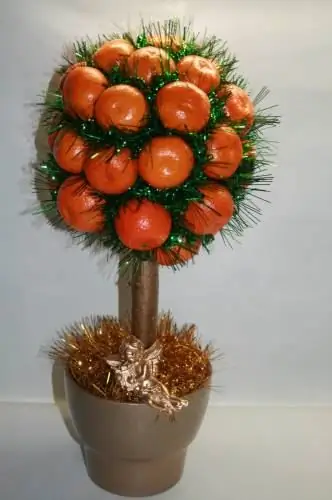 In the very center of attention, of course, is the New Year's beauty tree. In addition to classic Christmas tree decorations, you can decorate the Christmas tree with unusual handmade toys.
The simplest Christmas tree decorations are real tangerines and beautiful chocolates that can be hung on the tree with threads.
New Year's snowflakes made of colored foil will decorate the windows and mirrors of the apartment. Such snowflakes look very impressive, and the process of cutting such snowflakes can be very exciting.
You can decorate any corner of the house with a composition of "covered with hoarfrost" spruce branches. You can make such branches using simple table salt.
To do this, it is necessary to boil water with salt, prepare a strong saline solution, and cool it. Hold spruce branches in the solution for 2-3 hours. After that, the branches must be dried, and they will acquire the effect of "snowy".
Beautiful Christmas candles are indispensable for creating a fabulous atmosphere for celebrating the New Year. If you arrange New Year's compositions using candles around the house and then light them at the same time, the mood of anticipation of something wonderful will surely appear.
Let's pay attention to the setting of the festive table. You can put the wonderful Blue Horse in the center of the table. Or decorate the table with a candy bouquet or a cute tangerine tree. A tangerine tree is easy to make with your own hands.
A garland of large Christmas balls that stretches across the entire wall. A voluminous house of Santa Claus, cut out of paper. New Year's felt boots for gifts, decorated with tinsel, located in unexpected places. These and other home decorating ideas will help create a unique happy New Year atmosphere.