A wedding is a unique day that becomes an event not only for newlyweds, but also for loved ones. Therefore, such a holiday should be special. Now it has become very fashionable to celebrate weddings on ships. There are several reasons for this.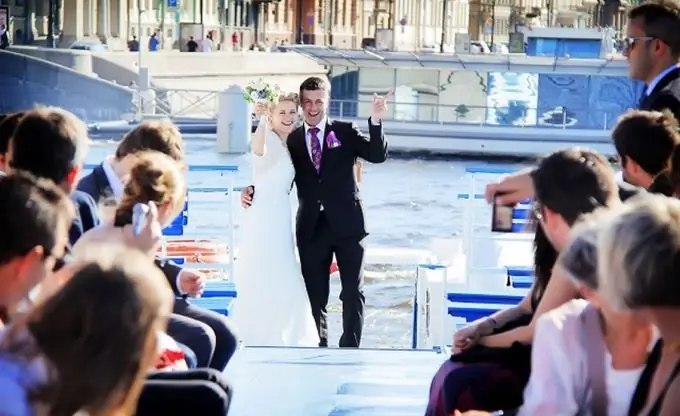 1. Romance. There is no place without romance on such a day, and a boat trip will very well create a romantic mood.
2. Comfort. Many people spend their time every day in stuffy rooms, within four walls. A wedding on a motor ship is a way to break out of the routine, to spend the day especially, in an unusual way.
3. Photos along the route. Non-standard views of the city's attractions, such as the view of the embankment and other buildings from the river, make wedding photos unique.
4. Originality. You will surprise your guests by inviting them to celebrate this important day for you not in the usual restaurant hall, but on the boat. The celebration will be remembered for a long time, when the holiday is with a twist.
5. Availability. In fact, renting a motor ship for a wedding is not too expensive a pleasure. Just estimate the cost of the restaurant, add the rent for the wedding cortege, you will be pleasantly surprised by the ratio in favor of the ship.
6. Excursion. If your wedding is attended by guests from other cities and countries, they will be pleased to see the surroundings of the city. Therefore, a wedding on a boat is a good reason to take a short excursion to local attractions.
7. Saving time. Absolutely no traffic jams, no nerves, unforeseen stops, parking difficulties. Everything is going according to plan.
8. There are no prying eyes. You will know exactly who shares the joy with you. On the ship there will be only invited guests, service personnel and no one else.
9. A large number of scenarios. Disco on deck, romantic walk along the marina, outdoor buffet - in short, you can organize your wedding ceremony the way you want.
10. Thematic wedding. This is a fairly popular type of script lately. The adventures of the bride with pirates, the romance of exotic countries, scarlet sails and everything like that. Absolutely any fantasy can be realized. On the ship, you can play both a traditional wedding with relatives and a club party with many guests.
The main thing is that a wedding on a motor ship will surely be remembered for many years only by positive emotions and pleasant impressions.