March 8 is a special day on which I want to make every woman at least a little happier. Sweets and tulips are very nice, but if you want to surprise the fair sex, then congratulations should be thought up in advance. And this is where all your imagination comes in handy. The choice of congratulations and gifts depends on who you are going to give it to - your beloved woman, friend, relative or employee.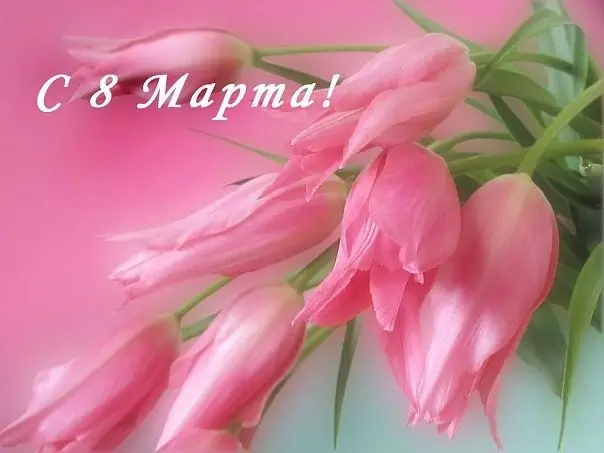 Instructions
Step 1
If you want to please your beloved woman, then let your imagination run wild. For example, place small bouquets of snowdrops or tulips all over the house, and scatter rose petals on the carpet. And let your beloved in the morning find some small gift near each bouquet - a postcard, a brooch, a beautiful scarf or a CD with her favorite music. She will remember such a surprise for a long time. You can make an appointment with her in a beauty salon - there she will have a beautiful hair, makeup and manicure, after which you can invite your princess to a romantic dinner in a cozy restaurant.
Step 2
If you need to congratulate your mom, sister or grandmother, then remember that your personal presence is important to them. Therefore, be sure to try to visit them. Give them at least half an hour of your attention. As for gifts, their choice should be guided by the age and interests of your relatives. You can give them an interesting book, a handicraft kit, a frame with a family photo, in a word, something to show your love and attention. You can organize a festive dinner or a shopping trip for them - that's up to you.
Step 3
To congratulate an almost adult daughter on March 8 is a little more difficult, since adolescents are often very withdrawn. If this is your case, then watch your daughter. See what kind of cosmetics she wears, what kind of music she listens to, ask what she likes to read. An interesting book or CD by your favorite artist will show your daughter that you are interested in her life and understand her.
Step 4
If you have a lot of employees under your supervision, be sure to congratulate them too. For example, you can come to work early and place bouquets of flowers on their tables - it will be nice. If you want to surprise them, then order an astrologer who will draw up an individual horoscope for each of the fair sex during the day - your employees will be grateful for this.