The only holiday when everyone receives gifts, regardless of gender and nationality, is New Year. Any gift in itself brings joy and cheers up the person being gifted. But a person experiences even greater pleasure when he unfolds the holiday packaging in anticipation of a surprise. And since in the New Year everyone is waiting for miracles, it is a good thing to spend time and effort wrapping gifts for the sake of loved ones.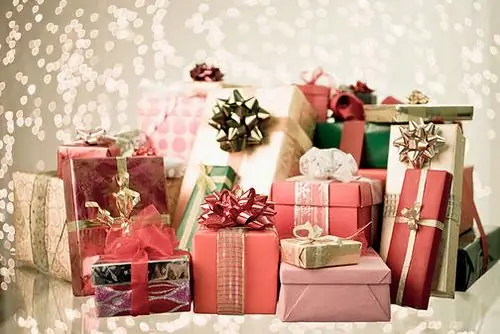 It is necessary
- Scotch tape;
- scissors;
- wrapping paper;
- tinsel;
- bright ribbons;
- bricks;
- paints;
- box.
Instructions
Step 1
Find the materials you need to work with the design of gifts. Before the holidays, a huge number of them are sold in stores. It can be simple multi-colored corrugated paper, special wrapping film, tinsel, various ribbons and bows. For small gifts, you can purchase simple boxes, which you can later decorate to your liking. Make your workplace more comfortable so that nothing interferes with the flight of your imagination.
Step 2
The easiest way to wrap a gift is to simply wrap it in a pretty package. To do this, take a sheet of wrapping paper, place the gift in the center and carefully collect the edges of the sheet, tie it with ribbon or tinsel. It is a little more difficult to decorate a rectangular gift in a box. Place the box also in the center of the rectangular sheet so that the top and bottom margins are wider than the side ones. Wrap them around the gift and secure with tape. Bend the side indents with corners and also secure with adhesive tape. Wrap a ribbon or bow on the gift.
Step 3
Children love to receive gifts in their original packaging. You can make a real "candy" out of your gift. Gifts are best suited for this shape, the shape of which can be changed. For example, clothes or small toys. Place the gift on a piece of wrapping paper and roll it up. Tie the ends with tinsel on both sides. You will get a gift in the form of a candy that both a child and an adult will be happy with.
Step 4
Make a snag packaging. A small gift is best for this. Decorate it separately in a beautiful box. Then take a large box and secure the real gift to the bottom with double-sided tape. Place something heavy at the bottom of the box. A couple of bricks are perfect. They can be colorfully painted for a more aesthetic look. Close the large box, decorate with a huge bow and donate. If you see bewilderment in the eyes of the person to whom you present the gift, your joke is a success.
Step 5
Any bright, shiny packaging looks festive. New Year is a celebration of miracles. Try to devote time to your loved ones by preparing for them not only useful, but also beautiful gifts.