New Year is a magical holiday in which children expect miracles. And this holiday is especially wonderful because of the carnival costumes, which you don't even have to buy. Any New Year's costume for a boy can be made with your own hands.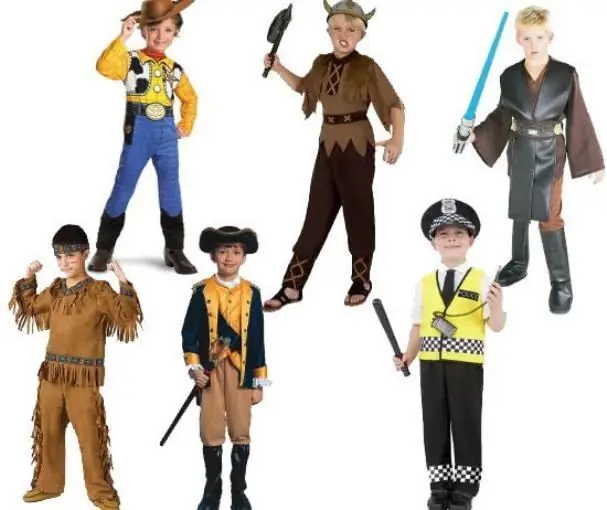 Beasts
Remember your childhood, what did the boys dress up in when you were children? As a rule, at the New Year's party, boys acted as favorite animals. Sewing such a suit is as easy as shelling pears.
First you need to determine who your child will be - a bunny, a wolf or a bear cub. Determine the style of the suit. For help, you can take magazines with children's costumes or use the Internet. You can also find a pattern there. If there is none, then take measurements from the child yourself or make a pattern using his clothes.
Now you need to choose a fabric that matches the color: bunny - white, wolf - gray, bear - brown. If the child depicts another animal, then the fabric is also selected in accordance with the color. As a rule, in magazines there is an indication of what kind of fabric you need to take for a particular suit. Most importantly, it should not be too dense so that the child is not hot.
But the most important thing in a children's New Year's costume is a mask. Most likely, you will have to buy it.
Snowman
You don't even need to look for a snowman costume in magazines or on the Internet. First, sew a long white hoodie for your child. At the very bottom of the hoodie and at the belt, elastic bands are inserted into the hoodie. To add volume to the lower "ball", hem it with cotton wool or padding polyester. The child's feet should be shod either in tight white socks, or in white felt boots. A shiny hat made of cardboard and foil should be made on the baby's head.
Heroes of books and films
With the costumes of fairy tale characters or cartoon characters, it's even easier. Pirates, gnomes, elves - they all wear trousers, shirts and vests, only in different colors. Sew these garments for your child.
The pirate costume should be decorated with a bright wide belt and saber. Attach foil rivets to the gnome's vest, and decorate the elf's costume with fringes along the bottom of trousers, vest and shirt sleeves. Do not forget to add the appropriate tools as well: for the gnome an ax or a pickaxe, and for the elf - a bow with arrows.
Instead of a hat, you can tie a bandana with skulls to the pirate's head. You can buy a gnome or make a cotton beard. Just so that your gnome does not look gray and old, it is best to paint the cotton wool brown or red. An elf needs either a headband or a green panama hat.
The musketeer costume consists of breeches, a shirt and a blue cloak. You can also find breeches and a shirt in the boy's wardrobe, but the raincoat will have to be cut out of blue satin or silk. On the front, back and sides of the cloak, you need to draw or sew white crosses. Lace will have to be sewn onto the cuffs and collar of the shirt - for the authenticity of the image. Complement the costume with a feather and sword hat and your musketeer is ready for battle.