The end of the year is just around the corner. And it is this period that turns into trifling quarrels with loved ones. It's all about nerves, fatigue and tension. And the to-do list adds fuel to the fire. So how do you keep family peace in this whirlwind?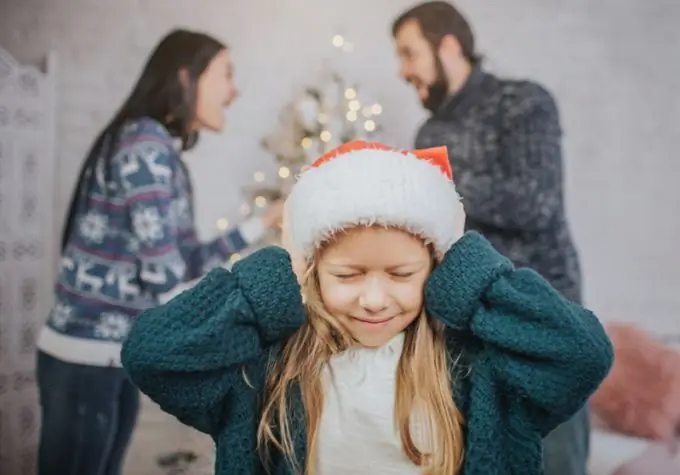 Where to celebrate the New Year
From year to year, an insoluble dilemma of where to celebrate the country's main holiday leads to quarrels with the second half. One of you wants a quiet home environment, and the other is a noisy hangout with friends. In this situation, you will have to learn to negotiate. For example, celebrate the New Year at home, and the next day go to friends.
Whose parents should I go to
Parents are always waiting for their children to the New Year's table and express the hope that they will definitely come. And all would be fine, but such a desire is expressed by parents on both sides. But this does not mean that you should definitely celebrate the New Year with them. The holiday should be celebrated the way your family wants. After all, there are long, winter vacations to visit family and friends. And if you are afraid of offending your parents with a refusal, then think about whether you have matured.
Why there is still no Christmas tree at home
The Christmas bazaars have been open for a long time, the smell of pine needles can be heard in the streets, and there is still no Christmas tree at home. Wandering around at work, you may remember that you need to buy it. And the head of the family will remember this, but only on December 31. To prevent this from happening, make a plan for the pre-New Year's must-do. In this regard, set aside one day to buy and decorate a Christmas tree.
No festive mood
The fatigue that has accumulated over the year, as always, makes itself felt at the end of the year. No one is in the mood for New Year's celebration: neither the husband, nor you, nor the children. Everyone around is annoyed and offended by trifles. In such a situation, you should pull yourself together and create a festive mood. Make cocoa with marshmallows and watch New Year's movies with the whole family. Put on some nice music and start decorating your home for the holiday. You yourself will not notice how the New Year mood will appear.
Everyone is waiting for the idea of celebrating the New Year
From relatives and friends you only hear: "What will be on the table?", "What contests and games will be?", "Where are we going on January 1?" etc. No one can solve anything without you. You get panic from such a brainstorming session. You start to break down on loved ones. So it's time to engage the whole family. Make a list of New Year's ideas with them. Break down who will be responsible for what and think over an alternative, suddenly something does not go according to plan.
All the quarrels before the New Year and the long weekend are due to the fact that we have high hopes for this period. Therefore, we want the holiday to be a success. After all, somewhere inside us there is still a child who wants an adult to come and perform a miracle. But we have grown up a long time ago, and we create the holiday on our own. Therefore, in order for the New Year to be magical as in childhood, you need to monitor your own resources and enjoy the preparation.