In order for your birthday to be successful, all guests have fun and they will remember it for a long time, you need to organize everything in advance. Most often, a birthday is celebrated in a restaurant or cafe. Sometimes in a sauna, even less often in nature or in the country. Regardless of where you are going to celebrate your birthday, there are the same rules in his organization.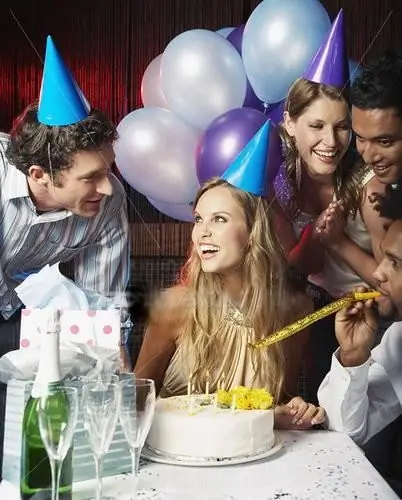 Instructions
Step 1
One month before your birthday, invite everyone you want to see on it.
Step 2
Book a banquet hall. Discuss menus and drinks. Express your wishes regarding the design of the hall. If you celebrate in the country or in nature, then make up the menu yourself and invite helpers to prepare it.
Step 3
Invite a toastmaster for the celebration, he will take all the worries of the cultural program of the birthday on himself. Then you will be freed from composing entertainment scenarios. Otherwise, the entertainment of the guests should be taken over by someone from your circle. Then think over, together with the appointed toastmaster, what entertainment events can be arranged.
Step 4
Prepare the background music for your evening. Purchase discs with your favorite songs in advance. If the music is live, then discuss the repertoire that will sound.
Step 5
Consider who will bring guests home after the meal.
Step 6
Organize an overnight stay for visiting guests.
Step 7
Learn funny sayings with which you will respond to congratulations.
Step 8
You can invite an accordion player to perform songs in chorus. If you don't want to invite him, then arrange karaoke singing.