Your kid still believes in fairy tales and magic, and as soon as the first drifts appear on the street, he thinks about what kind of gift he would like to receive for this New Year. In anticipation of the future joy of the crumbs, write a letter to Santa Claus with him.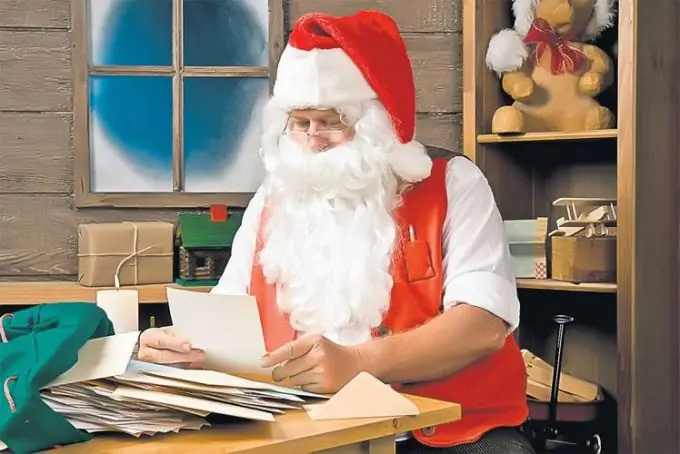 Instructions
Step 1
Thanks to the letter, you will be able to find out which designer your little son wants to receive for the New Year's holiday or what kind of doll your daughter is dreaming of. But discuss with the child right away that Santa Claus can bring only one gift. The rest will be given by parents and grandparents. So you can teach the kid to understand that you need to give gifts to loved ones yourself, and not wait for the magician to do it for you.
Step 2
What can you ask Santa Claus and what cannot he give? Explain to the child that Santa Claus will not be able to give a dog, cat, horse, i.e. any living creature, especially a sister or brother. Do not forget that the gift is your child's property. This means that he can do with him whatever he wants - to give, break, exchange for another toy. Ask the child: "What if someone wants to have you for the New Year? Would you like to be a gift? " Santa Claus cannot give a magic wand or a seven-colored flower, because magic things in the hands of an ordinary person lose their abilities.
Step 3
If your toddler doesn't know how to write yet, help him write the letter. Ask what he would like to tell Santa Claus about himself. Let the baby talk about her dad and mom, sister, pet - cat Murzik, friends from kindergarten, etc. Talk to him all the sentences. Try putting a felt-tip pen or pen in his hand and helping him with your hand to write at least a few words. It turned out not very nice - that's nothing. Kind Grandfather Frost will understand everything! Ask the kid to make a present for Santa Claus too, which he will be very happy to draw for him.
Step 4
Take an ordinary envelope (you can decorate it with a drawing or applique made of colored paper), write the address of Father Frost's estate: 162340, Vologda Oblast, Veliky Ustyug, to Father Frost. Walk with the baby to the post office and put the letter in the box. For you, this is the most ordinary, traditional way, but for a child it is very serious and interesting.