Santa Claus, like everyone else, celebrates the New Year. Children and adults from all over the world come to the homeland of the fairytale wizard Veliky Ustyug in order to congratulate the hero of fairy tales on this wonderful holiday and give him various gifts.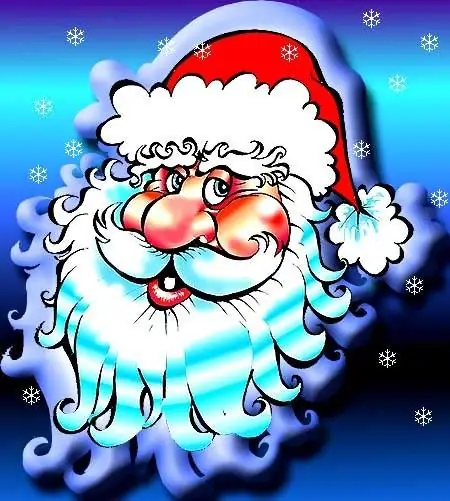 Instructions
Step 1
In advance, before the beginning of the New Year, purchase tickets to Veliky Ustyug, located in the Russian North (usually the route to it runs through Moscow in transit). Since 1999, this city has been declared the birthplace of the All-Russian Father Frost.
Step 2
In case you personally fail to congratulate the fairytale hero of Santa Claus, prepare a congratulation written on paper. The old man is very fond of reading letters, especially from children. That is why on the days of the holiday, Santa Claus's assistants put up a mailbox especially for this purpose, to which anyone can drop a letter of congratulations for the fairy-tale hero. This opportunity is used with great pleasure by both locals and tourists.
Step 3
Get a New Year's gift not only for Santa Claus, but also for the Snow Maiden, his beloved granddaughter. She, as you know, is very fond of sweets, however, like all children. And Snegurochka's grandfather every year gives her a gift in the form of a huge candy that has magical properties. It is known that whoever tastes this sweetness will become kinder, and he will have a desire to do good deeds, and his soul will be filled with joy. The best gift for Santa Claus is a sleigh. From year to year he receives them from his friends.
Step 4
Santa Claus loves to look congratulatory in the eyes, which is why personally give the hero of fairy tales a gift (better made with your own hands) at the celebration.
Step 5
Do not forget to buy or sew a costume for the New Year's carnival, because on the wonderful New Year's holiday, all children in the images of fairy-tale heroes and creatures congratulate Santa Claus, thereby they find themselves in the world of miracles for at least one day.
Step 6
If you do not have the opportunity to come to the fairytale hero and personally congratulate him, you can write him a letter on the Internet or send by mail to Russia at the address 162390, Vologda region, Veliky Ustyug, PO Box 10 "House of Santa Claus".