Mom's birthday is a very fun holiday. On this day, every child wants to please his closest person as much as possible. And as you know, the best gift is the one that is made by hand. Why not congratulate mom on this bright day with an original postcard of your own production? Here's what it takes.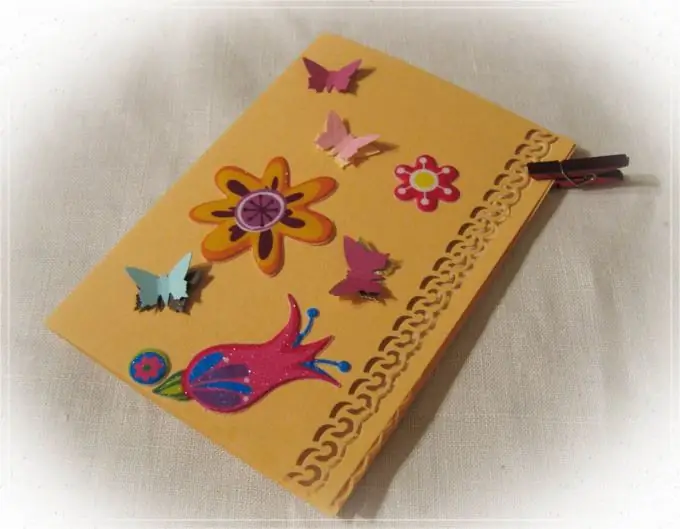 It is necessary
colored or white cardboard, colored paper, scissors, glue, decorative ornaments: dried flowers, beautiful buttons, ribbons, beads, stickers, as well as everything that will be at your fingertips
Instructions
Step 1
Decide on the size of your postcard. You can make a large postcard to hang on the wall or on a shelf of books, or a small one that your mom can keep in her wallet. Cut the card out of cardboard and fold it in half, now you can start decorating.
Step 2
If you choose white cardboard, you can cover it with beautiful colored paper to make the card brighter. If you chose colored cardboard, you can cut beautiful patterns at the corners or gouge them out using a curly hole punch, which is sold in the departments of the stationery store.
Step 3
Use all your imagination to design the cover. Stick dried flowers on it, and decorate the edge with colored tape or make a bow out of the tape and glue it into the corner. Decorate the back of the postcard with pretty stickers with patterns. You can use foil to make snowflakes out of it, if your mom has a birthday in winter, you can cut the zodiac sign out of gold paper. On the Internet, you can find a picture with a picture of your mother's favorite animal or flower, and after printing, you can also glue a postcard to the cover.
Step 4
Draw a portrait of your mom or stick a picture of her. You can find a photo of the whole family or just you and your mom. In big letters, write "Happy birthday!" or "Beloved Mom".
Step 5
Write a poem or search the Internet for a beautiful birthday greeting for mom. Write it in a pretty pen and in large letters, or print it on a piece of paper and attach it to the card with double-sided tape.
Step 6
Do not be afraid to experiment: try to make several cards, and choose the best of them, or make several blanks, placing all the parts on the card, but not sticking them and leaving only what you like the most.
Step 7
Do not forget to put your signature and the date when this card was made, mom will be very pleased in many years, looking through all the gifts presented before, remember this day and when this gift was made.