New Year is a holiday for the whole family, and it is better to prepare for it all together, then you will not have a shortage of helpers. Decorate the room in which you are going to celebrate the New Year using all the ideas of family members. Someone will definitely remember the tradition of painting windows with New Year's drawings.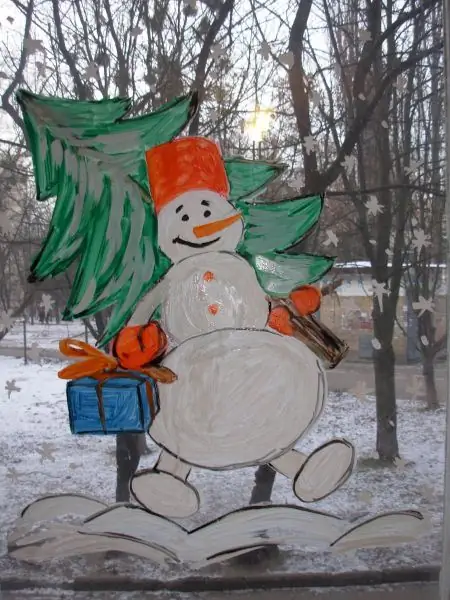 It is necessary
- Gouache / stained glass paints;
- brushes;
- water;
- sponge;
- glass cleaner.
Instructions
Step 1
Select the window or windows you want to paint on. Wash the glass with glass cleaner so that the paint adheres well, wipe the window well to dry. Find some postcards with New Year's drawings that are not too difficult to reproduce. You can also make a stencil of a picture from thick cardboard.
Step 2
You can make it even trickier - download a picture from the Internet, enlarge it and stick it with tape on the other side of the glass. Now you always have a picture in front of your eyes - you just have to draw directly on it, and then, when you peel off the original, only your ingenious drawing for the New Year will remain!
Step 3
You can paint with gouache or special paints on glass. Children's stained glass paints are first applied to the film, and then transferred to the glass - this is how a drawing is obtained that is used several times. Use spray cans for snow and frost.
Step 4
When the New Year's drawing is dry, trace its outlines and the outlines of all the details with a thin brush with black paint. Drawings made with only one white paint look stylish. Even if you don't have gouache, you can use toothpaste and paint with it.
Step 5
Arrange a kind of competition for family members to paint windows - let everyone paint their own window, and then all together evaluate the creativity and determine the winner, who will be awarded the prize. Drawing New Year's drawings on windows can become your good tradition for many years. Do not forget, after the holidays, in the same way, all together, wash off the paint from the glass.