Self-made postcards will always be original and unique. The author puts his soul into them and conveys the mood through them. You don't have to be an artist to want to create and try to do it. And the New Year is a great reason to find a creator in yourself.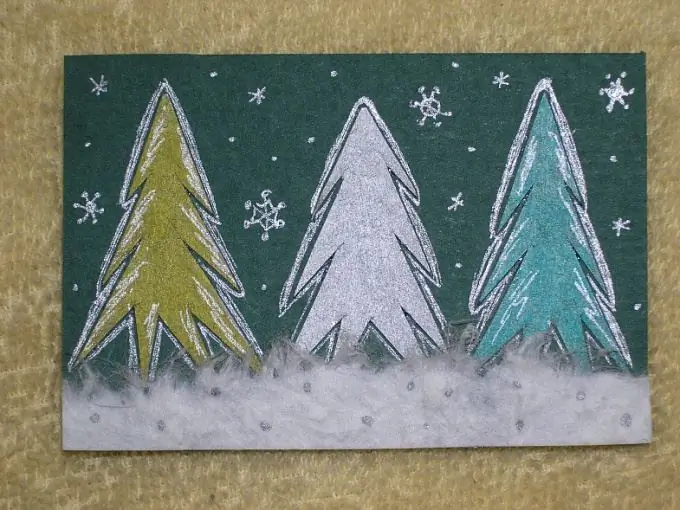 It is necessary
- base paper;
- scissors;
- felt-tip pens, colored gel pens;
- materials for application.
Instructions
Step 1
If you have children in your home, connect them to this exciting activity - you will organize a wonderful family leisure time, and your loved ones will be extremely touched upon receiving such a present.
Step 2
Decide whether you will create the story of the postcard yourself or sketch it. The plot can be quite simple if you are an aspiring artist. If you decide to take a topic, for example, on the Internet, then take on such works that you personally like, and not for those that are simply easier to complete. In this case, you can add something of your own to the composition, and your drawing will still be quite original.
Step 3
Choose the main element of your postcard. It can be a Christmas tree, a snowflake, a bullfinch, a mitten, a fairy-tale house, a train, a New Year's ball, a firecracker. Practice drawing it on a separate sheet of paper.
Step 4
Find paper for your job. Night snow landscapes, made on a black or other dark background with a white gel or silver pen, look great. You can paint with decorative glue on velvet paper. You can combine a drawing with an applique, in which case the choice of paper will depend on the idea of your composition. It is better if the paper is thick enough - in this case, the postcard will not wrinkle, and it is much more convenient to glue and draw on it.
Step 5
Fold the paper so that the front of the card appears. For this purpose, it is very convenient to draw along the ruler with the back of the cutter or the corner of the scissors blade at the place of the intended fold on the front side of the postcard. Folded along the resulting line, the sheet will look very neat.
Step 6
Think over the composition of the picture on the postcard and get started with its execution. You can draw the plot right away or using a simple pencil first. Try not to overload your drawing with equivalent elements. To create a New Year's composition, one or two large elements and a background are usually enough, which is easy to fill, for example, with stars, snowflakes, candy. Plus, your card may contain cutouts to make it even more fun.
Step 7
Write your New Year wish on the inside of the card. You can do it in the same style as the plot itself, or you can simply sign it like any other postcard.