The most beloved and irreplaceable symbol of the New Year is the tree. The fluffy forest beauty can decorate any interior and bring joy to adults and children. The main thing is that it remains green and elegant as long as possible.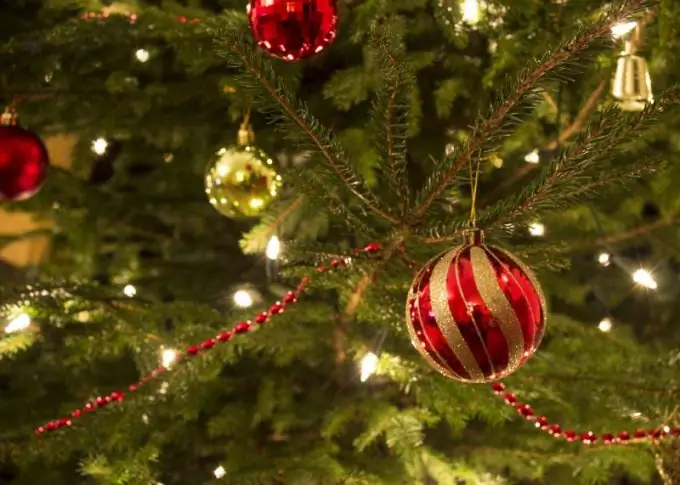 Instructions
Step 1
When buying a Christmas tree in the market, take a close look at the tree. The branches should be flexible, soft, the trunk is covered with frequent thick needles. But if some branches have already dried up, break easily and some of the needles have crumbled from them, it is better not to take such a tree - after a few days the tree will "go bald" completely.
Step 2
Before installing the tree at home, keep it for a day or two in a cool room - on the balcony or on the summer veranda, wrapped in paper or newspapers. The tree needs to gradually get used to the heat, because a sharp change in temperature is detrimental to its beauty.
Step 3
To prevent the needles from yellowing and crumbling, put the tree away from batteries and electric heating appliances, spray it with cool water from a spray bottle at least once a day. The dry air of the apartments is destructive for the forest visitor, and with the help of water you will be able to keep it longer. And there will be more unique coniferous aroma.
Step 4
The best way to keep your Christmas tree young is to put it in a bucket of wet river sand. You can pour a solution of aspirin and sugar into the sand (put 3 tablespoons of sugar and one tablet per liter of water). Be sure to only peel the bark from the bottom of the trunk and make small notches so that the water and nutrients are better absorbed. Potassium permanganate solution is also an excellent nutrient - add two or three crystals to a bucket of water, pour the sand, and your tree will stand all the holidays.
Step 5
If there is no sand, you can put the tree in a bucket of water, after adding glycerin there (three tablespoons per ten-liter bucket) or a mixture of a pinch of citric acid, gelatin and crushed chalk. A mixture of salt, sugar and aspirin tablets is also quite effective. Salt and sugar will nourish the tree, and aspirin will prevent rot in a humid environment. Don't forget to add water.
Step 6
If there is no aspirin, you can safely dip copper wire or a few copper coins into sweet water - their effect is similar to aspirin, preventing the appearance of bacteria.
Step 7
In addition, it is necessary to constantly file the tree trunk from below, making a fresh cut every two to three days - this will accelerate the flow of nutrients and water to the branches and prolong the youth and freshness of the green beauty.