All the necessary items: passport, keys, mirror, - the bride can give to the groom, girlfriend or mother for safekeeping. But at the right moment one of them will surely disappear from sight. Better to use your own handbag for the bride. If you have not found a suitable model for you in the salon, sew a pompadour-style handbag yourself.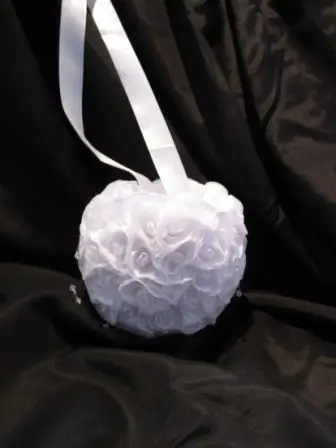 Necessary
White (or matching the dress) taffeta 140 cm wide and 0, 60 m long;
Flizelin H250 (press it to one of the parts of the bottom of the bag);
Decorations in the form of flowers, ribbons, beads, beads, etc.
Instructions
Step 1
Open your purse. It consists of five parts: the bottom - two round parts with a diameter of 12 cm; lateral rectangular part 73 * 29 cm; two parts of the handles (four parts in total) 170 * 3 cm. All parts, except for the handles, are cut out with a seam allowance.
Step 2
Fold the bottom parts inside out to each other, sweep.
Step 3
Stitch the side of the bag along the smaller sides (29 cm). Draw a mid line along the seam. Sweep the vertical handle loops 11.5 cm from the top edge.
Step 4
Turn the top part inside out and sew at a distance of 4.5-6 cm. Loops should be between the stitches. Gather the lower part of the sidewall and stitch it to the bottom.
Step 5
Fold the handle pieces one on top of the other in two pairs, wrong sides out. Stitch and turn over your face. The width of the finished handles will be less than a centimeter. Pass the handles through the loops and tie together.
Step 6
Decorate your purse with embroidery, beading, lace and flowers.