All Saints' Eve is a wonderful excuse to have fun. Make your children and friends happy. If you have never celebrated Halloween at home, then you should definitely try it. Create a spooky mood with simple holiday decorations and costumes. Make pumpkin lanterns with the children, prepare delicious food and drinks.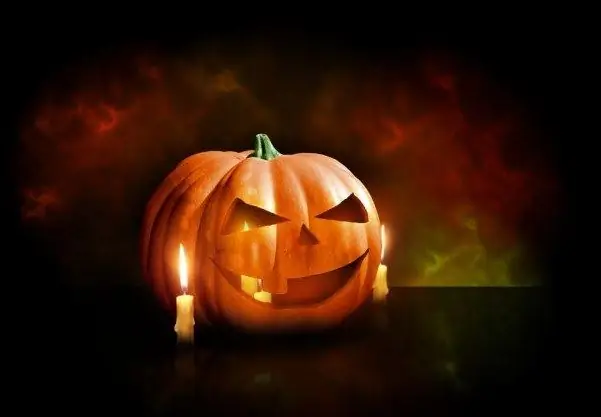 It is necessary
- old clothes,
- toilet paper,
- bandage,
- scotch tape,
- red paint,
- glowing balloons,
- glowing paint,
- ultraviolet,
- black paper,
- scissors,
- candles,
- pumpkins,
- knife.
Instructions
Step 1
First you need to decide on a theme for Halloween. Think about which horror characters you like the most. Maybe you want to throw a vampire party or turn yourself and your friends into zombies. You can, of course, do without a specific topic, then everyone can gather at your house - witches, devils, the dead and even trolls. If you are planning a party with children, then you can choose Halloween in Russian style. To do this, you will have to create an atmosphere of Slavic myths at home. Brownie, kikimora, mermaid, Baba Yaga and Koschey are everyone's favorite evil. Kids will love it.
Step 2
Decorate your home according to the theme of the party. To do this, take black paper and cut scary silhouettes out of it, for example, skulls, bones, bats. Attach all this to walls and furniture with paper clips and tape. Use black and glowing balloons. If you have a UV lamp on hand, you can use that too. Apply additional contours and various spots to the silhouettes you cut with special paint, then the room will look very impressive in the dark.
Step 3
Do not forget about candles, they will allow you to turn off the lights and celebrate Halloween in the eerie twilight. And of course pumpkins! This is an essential attribute of Halloween. There should be a lot of pumpkins, cut off the tops and remove the contents. Use a knife or blade to make scary "faces" for the pumpkins, and put candles inside. In the dark, they will "smile" ominously.
Step 4
Consider costumes in advance. You don't have to buy anything - you're having a house party. You can only use masks and scary makeup, because the most important thing is the mood. Almost anything can be used: old robes, T-shirts, sheets and even ketchup. The simplest is a mummy costume. All you need is scotch tape, bandage and toilet paper. Wrap yourself tight and you're ready to party. Tear old T-shirts or shirts, turn them into tatters, sprinkle some red paint on top - a zombie suit with blood stains is ready.