The older the baby, the less problems with choosing a New Year's gift, because the child can already write a letter to Santa Claus, and parents will not have to puzzle over what to give the child for the New Year 2017, what gift to put under the Christmas tree. But what if there is a crumb in the family, which you don't want to leave without a gift, and buying something useless is also not an option?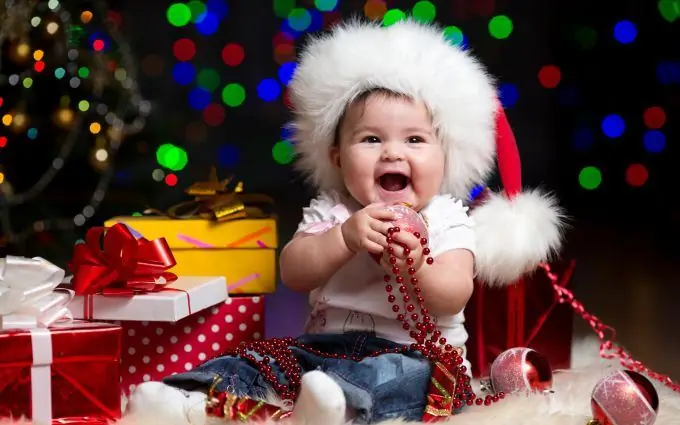 New Year's gift for a baby from birth to one year old: the main thing is convenience and variety
1) Simple, but simply irreplaceable for a baby - a rattle. Its handle should be comfortable, designed for little fingers, the weight is small, and the design is not very complicated.
2) A bright developmental mobile, preferably painted in contrasting colors, but at the same time with calm classical music - another great gift for a newborn.
3) In order for the baby to be able to perform various manipulations, he will need a developmental mat. The more textures, toys, rustlers, animals and even mirrors (of course, safe) - the better for the baby. He will be busy with such a rug for a very long time.
4) You can buy soft books as a gift, with the help of which the baby's tactile sensations and fine motor skills will develop. For the development of hearing, musical centers are suitable, and for logical thinking - pyramids, nesting dolls, rings or cubes.
What to give for the New Year to a child from one to two years old? Functionality is at the top
The purpose of the toy in the second year of life is to stimulate the sense organs, develop coordination of movements, small and basic motor skills, logic, connections - spatial and causal.
At this age, as a New Year's gift, you can choose any toys with wheels that you can carry or push in front of you. A good option is a regular ball: it jumps and rolls, you can play with it alone or with someone from the adults. Cubes and pyramids are a great option: you can collect and disassemble them indefinitely.
At this age, the baby can get acquainted with the life of adults, which means that it is time for role-playing games - from "daughters-mothers" to "hospitals" and "repairs".
Logic cannot be ignored, so under the tree there should be puzzles, lacing, various toys that need to be sorted by type and category. With their help, intelligence, perseverance, motor skills will develop.
The best New Year gifts for children from 2 to 3 years old: awakening imagination, but not breaking away from reality
Creativity and imagination develop precisely at this age, as does abstract thinking. Thanks to the child's fantasies, toys acquire properties that are atypical for them. You can choose mosaics, puzzles, constructors as gifts. If you give preference to dolls, then they should look like real toddlers. All role-playing games should smoothly immerse the child in the adult world. Animals should be believable - no fluffy and pink elephants, everything is just like in real nature.
At this age, it is imperative to buy kits for sculpting, drawing, sewing, modeling, etc. The child should definitely try everything, The phone can also be a good helper for a child, it not only helps to develop speech and teaches to count, but also makes it possible to see the psychological state of the baby, with whom the parents no longer spend so much time.
What gifts to give children for the New Year 2017: boys and girls - different toys
Do not forget that from 3 years old toys should be different for boys and girls. It is unlikely that your baby will bother with cars, and your son - with dolls. To each his own. Although the games of boys with dolls at this age should not be scared, but only if it is not bathing and dressing, but a manifestation of care, for example, building a house, protecting a toy, etc.