Halloween, or All Saints' Day, is a popular holiday in Catholic countries, in which people dress up in the costumes of otherworldly beings in order to deceive the evil forces, according to legend, coming from the other world for one day. Not so long ago, it became a tradition to celebrate it in Russia. You can have a fun Halloween experience with just a few simple tricks.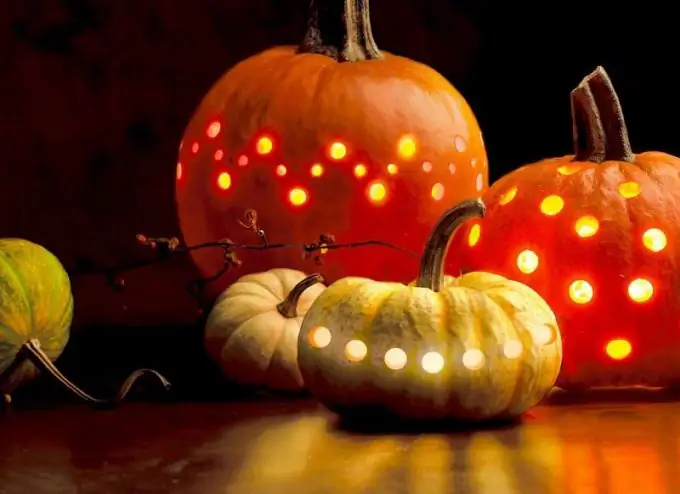 Instructions
Step 1
Make "Jack's Lantern", which is the main attribute of the holiday. Take a large pumpkin (you can buy it at the store or ask your friends gardeners). Cut off the top of it so that it does not fall through and cover the pumpkin if necessary. Scrape out all the contents with a spoon and make the walls completely smooth. Draw an angry face with a pen, or cut out its outlines with a sharp knife. Place a candle in a candlestick in the pumpkin, light it and close the lid. This funny craft can be installed in the room or in front of the entrance to the house.
Step 2
Stock up on a fancy dress, which is also a must for Halloween. You can buy it or make it yourself. You can become a witch, vampire, skeleton, werewolf, bat and other characters for one day. It is important that the hairstyle also matches the costume, for example, for a witch, create disheveled shags, and for a disguised mummy, it is better to hide hair under a bandage or toilet paper. Add bright makeup using eyeshadow, mascara and special paints. Accessories in the form of magic items, a broom, a hat, small lanterns in the form of a pumpkin, etc. will complement the look.
Step 3
Gather a company of those who want to have fun and start going around the surrounding houses, ringing the doorbell and saying "sweet or prank". The hosts should give you sweets, or they should let you play a little around the house. It is better to visit only those whom you know personally, as some residents of Russia will not understand these Western traditions.
Step 4
Throw a party at home with fun contests and games. For example, conduct a "monster race", when guests dressed in costumes move in a race like their characters: sitting on a broomstick, running on four legs, and so on. You can arrange a competition to search for sweets hidden in secluded places, fun karaoke with afterlife voices, etc.