Wedding symbols include many different elements. Among them, the most important attribute is the wedding ring. The celebration, of course, can do without a luxurious bridal outfit, a limousine and flowers. But without the exchange of wedding rings, as material symbols of matrimonial vows, the conclusion of marriage looks somehow unconvincing. From all this it follows that the choice of a wedding ring is an integral part of preparing for a trip to the registry office.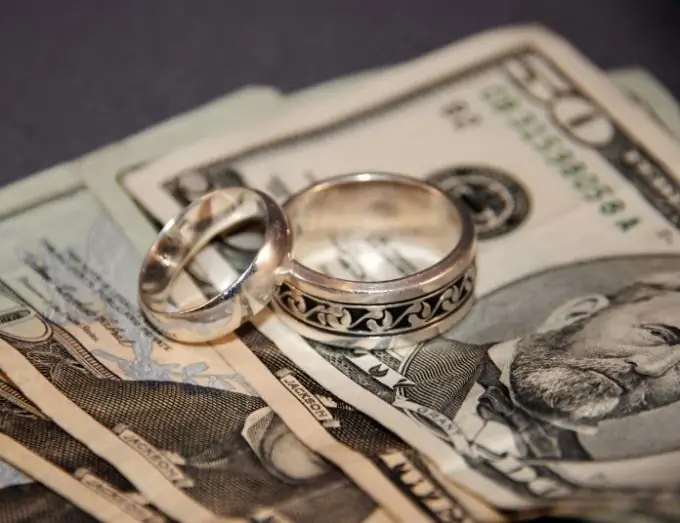 Instructions
Step 1
Determine the size of the finger for which the ring is selected. The easiest way to do this is by going to your nearest jewelry store and asking the sellers to measure your finger. Sellers will be happy to meet your request. The jeweler will measure your finger using a special instrument, which is a set of thin rings. Keep in mind that if you want to buy jewelry from 8 millimeters wide, then it should be slightly larger than your size - by about a quarter.
Step 2
Remember that measurements should be taken in a warm room and in the late afternoon. You should be calm and feel good. In the morning after sleep, during illness, menstruation, after physical exertion, the size of the finger changes slightly - the body swells. You can not measure a finger in the cold or in the heat, since temperature factors also affect body size.
Step 3
Decide on your preferences regarding the future ringlet. It is not at all necessary to purchase the usual smooth rose gold ring, which was an indispensable attribute of the spouses before.
Step 4
When choosing a ring model, consider your own characteristics. On thin and long fingers, narrow (2-3 mm) or very wide (10 mm) rings look good. For owners of thick and long fingers, it is better to prefer products with an average thickness of 6-7 mm. For short fingers, jewelry with a thickness of 2, 5-3, 5 mm will be a good choice. And for middle fingers, a thickness of 4.5-6 mm will be acceptable.
Step 5
Decide how much money you are willing to spend on a wedding ring. Today jewelry stores offer jewelry with diamonds, other precious stones, mother-of-pearl inserts, and precious metals. In the assortment of salons, it is easy to find smooth and carved rings made of yellow, white or classic rose gold of various standards, as well as platinum and silver. Of course, the price of all these products will differ significantly.
Step 6
Be sure to measure the ring that you are going to purchase, even if you are 100% sure that it will fit you in size. The actual size of the ring may differ from that indicated on the label. In addition, it is important to keep in mind that imported and Russian manufacturers make their products with different internal profiles. Russian jewelers make it flat, while Western jewelers make it convex and rounded.