It is not at all easy to decide to offer your beloved a hand and a heart, but to do it in an original way is even more difficult. An unusual ring presentation can please your girlfriend, and your proposal will be remembered by her for a lifetime.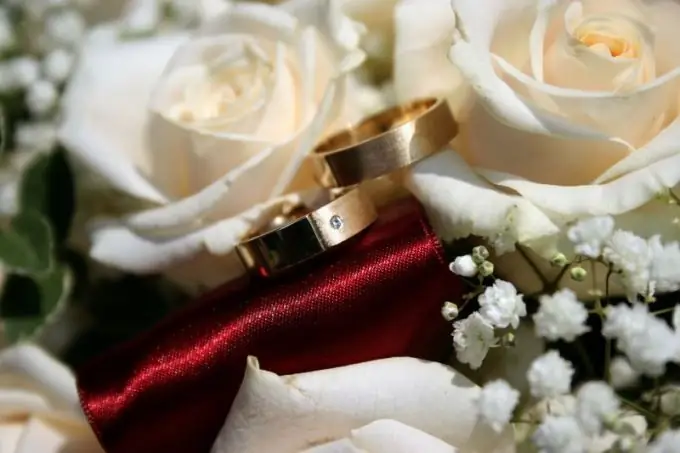 Necessary
- ring;
- a chocolate egg;
- lighter;
- money;
- flowers.
Instructions
Step 1
Get a ring. If you want to make a surprise for your darling, then when buying you will have to do without her. When purchasing a ring, tell the consultant its size. In most cases, men live in pleasant ignorance about this issue. Therefore, discreetly borrow from your half the ring that she wears on her ring finger. If you still make a mistake with the size, then you can change it a little later.
Step 2
Buy a chocolate egg with a toy inside. Unpack the package carefully, try not to spoil it. After that, divide the egg into two halves, take out the capsule with the toy and put the ring you purchased in it. Now you need to return everything to its place. Place the capsule in one half and cover with the other. Use a lighter to heat the line where the egg was held together. When exposed to high temperatures, the chocolate will become soft and stick easily. You just have to pack the resulting present in a wrapper and give it to your darling.
Step 3
Make a proposal to your loved one in full view of everyone. Invite your girlfriend to a movie or theater. Agree with the administration that after the session or performance you will go on stage and announce to the whole audience about your feelings for your beloved and your desire to marry her. Call her to the stage, get on one knee and ask to become your wife.
Step 4
Follow the example of Hollywood movies, where men in love present a ring to their soul mate in a restaurant. Arrange with the waiter to put the ring in your champagne glass or dessert. Of course, the first option is more reasonable, because unpleasant situations may arise if the ring is in food.
Step 5
If you live together, place the ring on your beloved's toothbrush, and leave a note next to it, in which you write about your desire to always be together. Prepare a large bouquet of your darling's favorite flowers and present it after you hear a joyful cry.