In the world there is a huge number of the most diverse monuments that immortalize historical events and the personalities of prominent figures of culture, science, art, and public figures. Among the motley collection of these art forms, those that reflect the romantic relationship between a man and a woman stand out. Recently, the United States of America can also boast of such a monument, where a monument appeared in honor of the first kiss of President Obama and his wife.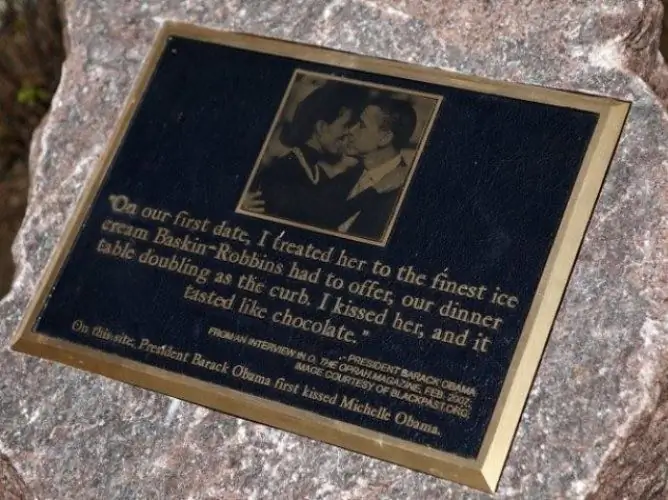 The historical basis for the installation of the memorial monument in Chicago was the fact that the current US President Barack Obama first kissed Michelle, who later became his wife, back in 1989. The event, which connected the hearts of two young people, took place near an ice cream parlor in the city of Chicago. Local media reported in mid-August 2012 that a granite stone has now been installed on this site, to which a commemorative plaque with a quote from an interview given by Barack Obama to one of the popular magazines is attached.
The President of the United States and his future wife met a year earlier, in the summer of 1988. At the time, both of them worked for one of the largest law firms in Chicago. Barack was then a law student, and Michelle had already earned a reputation as a fairly experienced practicing lawyer, despite being younger than Obama in age.
Apparently, Barack's path to the heart of the chosen one was not so easy. The president himself admitted that Michelle accepted his offer to go on a date only when he asked about it more than once. Nevertheless, the persistence of the country's future leader was rewarded. The meeting took place in a cozy cafe "Baskin-Robbins", where nowadays there is a popular snack bar "Subway" among the residents of Chicago.
A memorial stone with a tablet was installed on a flower bed, among flowers. Externally, it is a massive granite stone weighing about one and a half tons. On one side of the monument there is a plaque made in golden-black tones. On the plate is a photograph of Michelle and Barack hugging. Below there is a text that is the quoted words of Barack Obama, with which he describes a romantic meeting with his future wife. The composition ends with an inscription stating that this is where Barack and Michelle Obama kissed for the first time.
The ITAR-TASS news agency reported that the monument in honor of the first kiss of the president and the first lady was erected at the initiative of the employees of a shopping center located not far from this place. It remains to be seen whether this decision was dictated by love for the head of state and his wife, or by the desire of businessmen to attract potential buyers to the shopping center.