Making a beautiful bouquet with your own hands is not so difficult. In order for it to turn out beautiful, while remaining original, you need to know some of the subtleties of drawing up bouquets.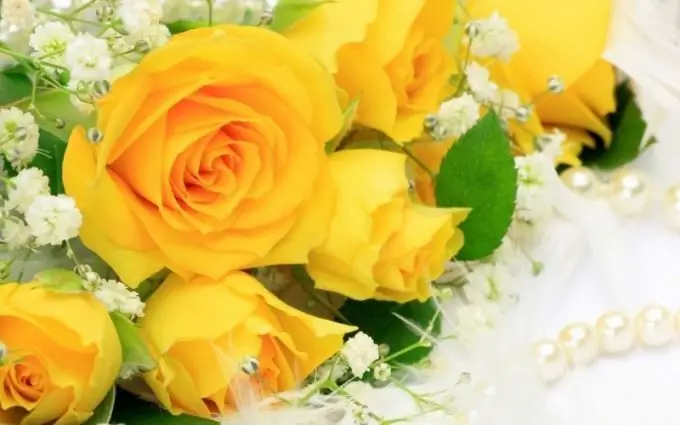 Instructions
Step 1
First of all, you need to choose flowers for the bouquet. Their number must necessarily be odd; when using different colors, one should not take an equal number of inflorescences of the same species. For example, if your bouquet consists of orchids and roses, take 5 roses and 6-8 orchids. Bouquets of the same flowers at different stages of growth look great, in which the buds are combined with half-open and fully blossoming flowers.
Step 2
The color scheme of the bouquet can be monochrome or contrasting. In the latter case, red and white flowers, yellow and purple flowers are perfectly combined. A bright harmonious composition is obtained from yellow, red and purple inflorescences, for example, it can be tulips, irises and yellow daffodils. Bouquets look incredibly delicate and romantic, where one color smoothly passes into another, for example, from white to pale pink, and then to bright pink or from pale lilac tones to rich purple.
Step 3
Monochrome bouquets look no less great, they look more sophisticated. In this case, you can combine flowers of the same shade, but different types in one composition. A very beautiful bouquet of white lilies, chrysanthemums and roses. In this case, it is necessary that one type of flowers should be larger than others.
Step 4
To assemble a beautiful composition, take the largest flower in your left hand, and choose other components with your right and add them to the bouquet, placing them slightly lower, so that they gradually form a kind of circle or oval. The next circle is located a little lower than the previous one. If using flowers of different shades, arrange them evenly alternating with sprigs of greenery. When the bouquet is assembled, you need to tightly tie the flower stems in the middle so that the composition does not lose its shape. Then carefully trim the stems to the desired length. For a bouquet of small flowers, the length of the stems should not exceed 15 cm, for a composition of rather large inflorescences, it should be from 20 cm and a little more.
Step 5
You can pack the bouquet in colored cellophane, organza, lace or corrugated paper. The color of the packaging material must be in harmony with the colors. This can be done in several ways. The most common of these is when paper or fabric is gathered in the hands of an accordion, a bouquet is inserted inside and tied. If lace or other soft material is used, then, holding the bouquet by the stems, carefully wrap it with a cloth, straightening it at the edges, and tie the package on the leg, leaving about 3 cm of stems outside. Such a bouquet can be decorated with a satin ribbon to match the inflorescences.
Step 6
Pearl or glass beads, lurex threads or multi-colored feathers are great as an additional decoration. For example, a bouquet looks very elegant if its leg is wrapped with a string of pearls over a satin ribbon. The composition looks very original, in which several flowers are wrapped in golden or silver threads of lurex. You can stick beads on the package or insert feathers between the inflorescences. The most important thing is to use decorative elements without forgetting the sense of proportion.
Step 7
Emerald greens very refresh the bouquet, emphasize the beauty of flowers. Buscus, emerald, monstera, aspidistra are perfect for large inflorescences. These plants are distinguished by large leaves of saturated color. For small, graceful compositions, thinner, graceful greens are needed. For example, fern, bergrass, robellini phoenix, limonium Beltred, setaria, trifernus.