Almost any holiday in Russia begins with a feast. And now, when everyone is already full and drank a little, you should move on to funny games so that your guests do not get bored. With fun and interesting games, you will impress, and they will surely want to come to you again.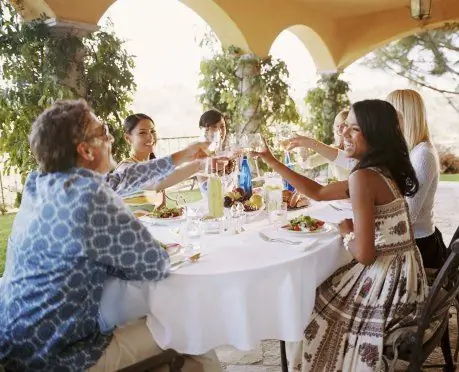 It is necessary
Cards, paper, pen, hat
Instructions
Step 1
Play mafia as it is very convenient to play at the table. The rules are very simple. The host distributes cards that will divide those present into two camps: the mafia and civilians. If you do not have special cards, then use regular playing cards. There should be more civilians than the mafia. If only ten people are involved in the game, then two players are enough to play the role of the mafia. When the roles are assigned, the moderator says: "The city is falling asleep. The mafia wakes up. The Mafia makes its choice. The task of civilians is to find the mafia before it "kills them.
Step 2
In order not to tear the guests away from the table, play crocodile. Two people are required to play. One, the presenter, thinks of a word to another person, and he tries to explain it by means of gestures. The main thing is not to use words, and the more difficult the word is, the funnier the explanation will be.
Step 3
The third way is the game of desire. Take pieces of paper, their number should match the number of people present. Let everyone write their wishes on it and put them in a hat. Naturally, within reason. Desires should be those that anyone can fulfill, being here and now. Then everyone takes turns pulling out the sheets and starting to do what is written there. As a result, you will amuse your guests and will not let them get bored for a minute.