On the eve of the New Year and Christmas, the spirit of the holiday is in the air. People decorate houses and streets, prepare gifts for loved ones, decorate Christmas trees. Shops offer a variety of New Year's decorations, souvenirs, garlands. But it is much more pleasant to hang on a Christmas tree or give relatives touching hand-made crafts, especially if a child is to create.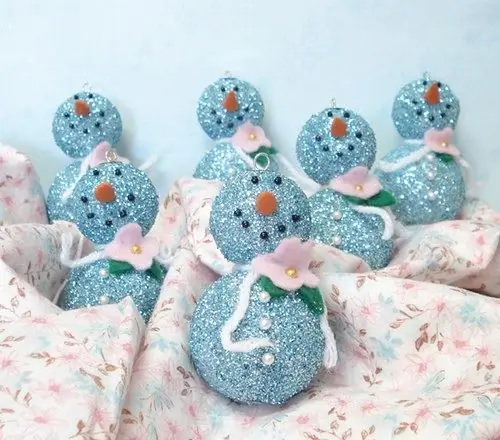 It is necessary
- colored paper, foil, cardboard;
- scissors, glue;
- sparkles, tinsel;
- sequins, beads, rhinestones;
- threads, fabric;
- clay, plastic.
Instructions
Step 1
The simplest winter-themed crafts are made from colored paper. Together with your child, make bright lanterns and garlands for the Christmas tree. Cut intricate snowflakes out of foil and decorate windows with them. Hang paper stars from the ceiling and watch your home transform.
Step 2
What New Year is complete without a Christmas tree? Make a New Year's symbol from tinsel by sticking it onto a cardboard cone. Make a wire base, glue it over with rice paper and place a candle inside - an original candlestick is made very quickly and inexpensively. Buy candies in green wrappers and tape them onto a cardboard cone to make a sweet Christmas tree.
Step 3
You can make simple winter-themed crafts from solidifying plastic or clay. Blind Christmas tree toys, candlesticks, souvenirs with your child. Bake the crafts in the oven, decorate with sparkles and beads.
Step 4
Make Christmas photo frames. To do this, buy ordinary wooden frames, glue them with paper, cloth, tinsel. Decorate with rhinestones, sequins and sequins. And don't forget to include your winter holiday photos.
Step 5
Simple winter-themed crafts can be made from papier-mâché. These are various Christmas tree decorations, and carnival masks - everything that has enough imagination. First, make a base of plasticine or gypsum, then glue it over with several layers of paper dipped in paste. Dry the craft well, paint and decorate to your liking.
Step 6
If you know how to knit, then knit or crochet crafts on the winter theme. Crochet openwork snowflakes, starch and tie strings to them. Place knitted snowmen under the tree. Sew Christmas boots, embellish them and hang them over the fireplace. Santa Claus will definitely put gifts inside.
Step 7
Don't forget to make New Year's cards. Stick an applique or collage on the cardboard, decorate with ribbons, sparkles, foam balls. Write a congratulation inside the postcard or paste in embroidery. Whatever the winter-themed craft, the main thing is that it is done with a soul.