New Year is fast approaching! We didn't have time to look back, and now it's time to surprise the guests. Why are there guests - in front of loved ones who know all your signature dishes, you also want to seem like a New Year's sorceress! But how?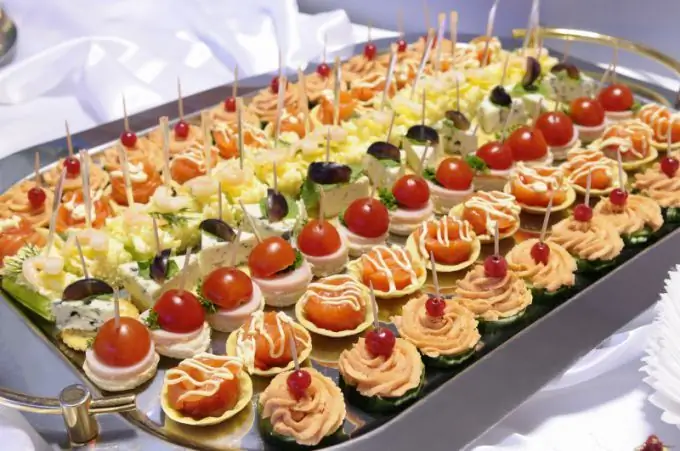 More than a salad
The proposal is as follows: we will have a salad - not just a banal salad in salad bowls or plates, which you will not surprise a Russian at a New Year's feast, but a salad in tartlets! With such a presentation, it looks pretty pretty on the New Year's table, and it is quite self-sufficient. And even if it is not easy to bypass the older generation in the kitchen, the hand of the feast will reach out to your tartlet.
By the way, if someone has a symbol of the year in the house (and there are many of them), it will be very convenient to treat him for good luck. Neither Italian greyhound nor severe wolfhound will refuse an exquisite tartlet.
What fillers can be in tartlets
You can fill our magic dough basket not only with salad: sauce, caviar, mousse, meat, fish, pâté, sweets for children (fruit cubes, for example). Delicious filler for tartlets - crab cream! It is very easy to prepare and is great for festive buffets. If you put fillers in purchased tartlets, then you will only have to cook crab cream.
crab sticks - 1 pack.
eggs - 1 pc.
fresh dill - 1 bunch.
cream cheese - 2 tbsp. l.
mayonnaise - 1-2 tbsp. l.
Break the crab sticks into small pieces and leave them in the blender, send the chopped boiled egg there (do you understand that you need to boil it hard-boiled before this?).
Whisk the ingredients until puree, add cheese and mayonnaise. Do not twist anything yet, but chop the dill smaller and pour it into a blender with crab mass. Now twist the mass with mayonnaise, dill and cheese one more time.
Fill the tartlets with crab cream and decorate them as you like.
it is better to fill the tartlets with creams and mousses before serving, so that the fillers do not wind up.
Where to get tartlets
Here whoever loves. If you want something simpler, ready-made baskets are made especially for you. We buy them, and we have a lot of time to think over the contents and create a design for tartlets.
Well, if you are in the mood to make a New Year's miracle from start to finish, you can bake them. Already here you can roam. The basket can be baked salty, sweet, spicy, waffle, yeast, sand, puff … and God knows what else.
Here's an example of one of the simple recipes for tartlets.
premium flour - 150 g
cold butter - 100 g
ice water - 50 ml
a pinch of salt
Some ingredients need to be cold on purpose to make the dough crisp. And so that it is also chopped, mix flour, salt and cold butter in a blender. When there is solid crumbs in the blender instead of ingredients, pour ice water into it and scroll everything again. You should have a soft dough.
Wrap the dough in foil and place in the freezer for 15 minutes (or 20 minutes). After the set time, roll out the dough into a thin layer and cut circles out of it for future tartlets. You can use a glass or mug, but it is better to use a wavy cookie cutter to make the tartlets more beautiful.
Place the cut out circles in the tartlet mold. If you don't have one in your arsenal, a cupcake pan can be an alternative. Send the dough to bake in the oven at 200 degrees until lightly browned. There is no specific time for baking, just keep an eye on the appearance of the dough.