Abundance and variety should reign on the New Year's table. And in this regard, snack tartlets are an excellent solution, because there are a great many fillings for them.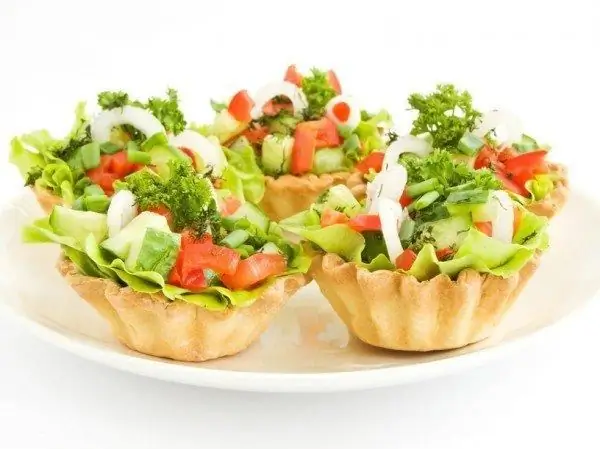 Filling with curd cheese
100-150 grams of any curd cheese should be mixed with chopped garlic clove and half a glass of chopped dill.
Filling with red caviar
Put a tablespoon of cream cheese in each tartlet, and put caviar on top. For caviar - a couple of parsley leaves.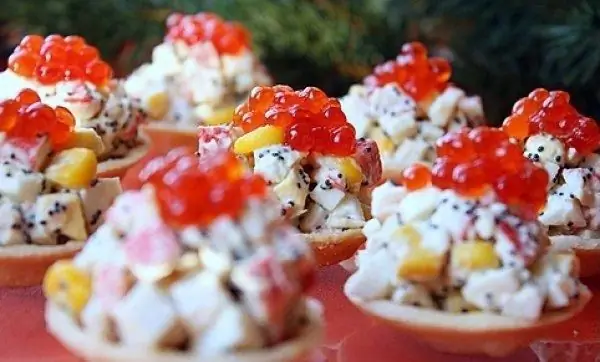 Shrimp filling
Chop 3-4 boiled eggs, add 120-140 grams of grated Mozzarella cheese and squeeze out a clove of garlic. Add some mayonnaise and stir. Fill the tartlets with this mixture about 2/3, put 2-3 boiled shrimps on top.
Smoked pink salmon filling
Chop one fresh cucumber and 180-200 grams of hot smoked pink salmon very finely. Season with sauce: one spoonful of sour cream, mayonnaise and French mustard.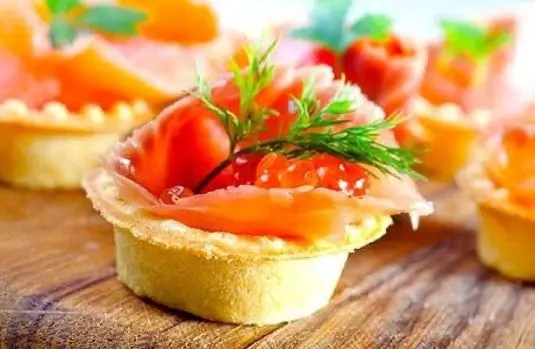 Pineapple and cheese filling
Mix a glass of finely grated Gouda with chopped canned pineapples (70-80 grams). Add a little garlic and mayonnaise there to taste, mix.
Avocado and cheese filling
Grind the pulp of one avocado, 30-40 ml of lemon juice, 1 tablespoon of olive oil and 60-70 grams of feta cheese in a blender. Fill tartlets with a slide with this mixture, garnish with basil.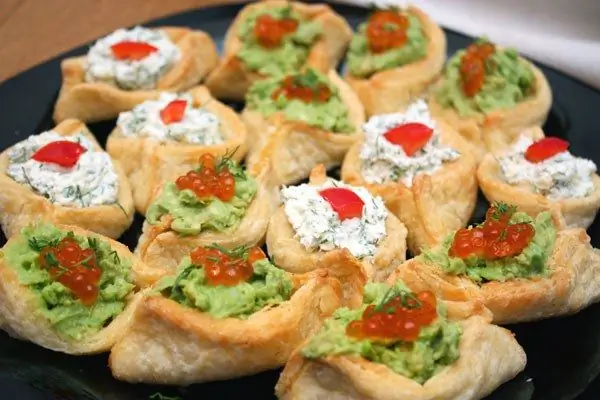 Cod liver filling
Mash the finished liver, add 2 finely chopped eggs and a couple of chopped gherkins. Season with mayonnaise or unsweetened yogurt.