Do you believe in miracles? And in Santa Claus, in a cart with deer? Probably not, but all why - because you are adults. But deep down, you are also looking forward to December 31st, you open presents with trepidation, you are moved by the sight of a snowman in the yard. Do you want your children to believe? After all, the New Year for a child is magic, joy, surprise, delight and a bunch of small gifts. The attitude of kids to the holidays directly depends on the mood of the parents. Give them a fairy tale!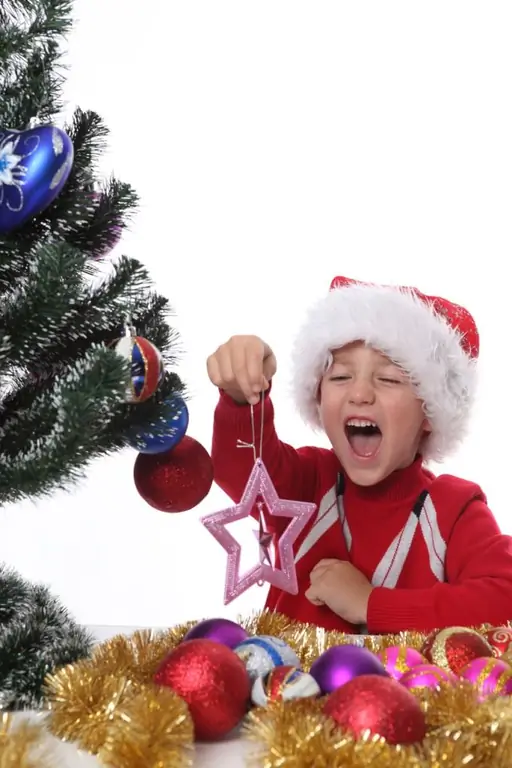 It is necessary
Christmas tree and decorations for the room, for New Year's crafts - stationery and decorative decorations, for competitions - various board games and small souvenirs for prizes, collections with New Year's tales and cartoons, and many, many, many gifts, large and small
Instructions
Step 1
First and foremost, miracles in the house begin with the first click of the opening old and dusty suitcase, which contains Christmas tree decorations. Try to store this suitcase so that little explorers will not find it in the middle of summer.
Step 2
The main attribute of the New Year is a tree, real or artificial. There is no need to show the children that this is unnecessary trouble for you, that it is better to put the Christmas tree closer to the 31st, and maybe on the day of the holiday itself. The Christmas tree is a guarantee of a good mood, both for adults and for little ones. Let the process of decorating this fabulous tree become a triumph. Gather the whole family on December 25 and assign roles, let the kid get the honorable role - placing a star on the top of the tree, dad picking the tree itself, let grandparents hang toys, and older brothers and sisters decorate the whole room with garlands and tinsel.
Step 3
In the next five days, together with the child, you can make crafts - snowflakes, postcards, funny toys, which will gradually fill the room in anticipation of a miracle. On the eve of the holiday and after, a festive program is shown on TV, but it is by no means designed for kids. Stock up on old Soviet New Year cartoons and fairy tales, as well as kind Disney editions. Let the child enjoy watching on cold winter evenings, before going to bed, so to speak, bringing the holiday closer gradually.
Step 4
Be sure to sculpt snow women and snowmen in good weather, it will be great if you can watch them from your window. Go sledding with your child! And also go for a walk in the evening when snowflakes "dance" under the light of lanterns.
Step 5
If your child's peers live in the neighborhood, try organizing contests and games for the kids. Sweets and small souvenirs can serve as prizes. Competitions can be very diverse - from collecting speed puzzles mixed in a common heap to playing "hot and cold".
Step 6
Now about gifts, kids are very fond of bright boxes, so take your time to pack surprises. Prepare one gift from Santa Claus, attach a postcard that says how the baby behaved over the past year, and what is expected of him in the coming year. The gift should appear under the tree at 12.00. To make it work, turn off the light, count to 10 and light the lanterns on the tree, in these 10 seconds dad or relatives will quickly be able to plant surprises in the dark.
Step 7
And lastly, if a child asks you not to put him to bed, respond to his request, because this is a holiday, and on this day any wishes come true. The kid will be happy and sweetly fall asleep on the couch next to you. And then you take him to the crib, cover him with a blanket, watching a satisfied smile on his face. Do not forget to leave a small surprise under your pillow - after all, you promised that reindeer and Santa Claus's helpers would come to visit, they just come unexpectedly. Greet the New Year with a smile, with joy, with trepidation, plunge into childhood with your head, and you yourself will believe in Santa Claus!