A good carnival costume for a boy will be a fairy-tale king's costume, which you can sew quite simply yourself. All the royal splendor can be conveyed by a velvet cape-mantle and, of course, a royal crown. How to make a king's crown?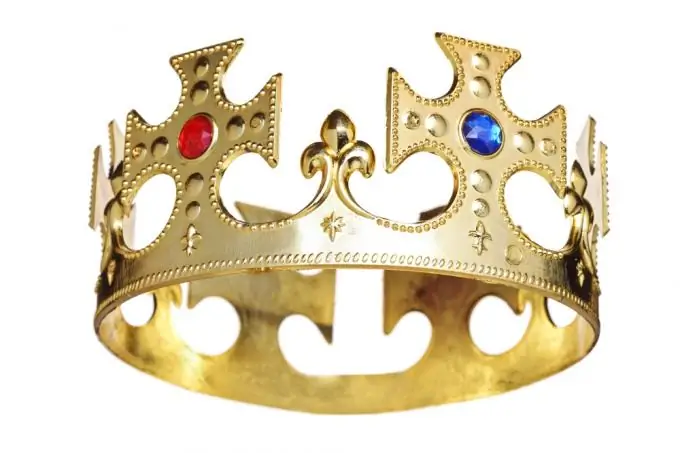 It is necessary
Thick paper, glue, paints
Instructions
Step 1
Measure the circumference of your head along a line 2-3 cm above your ears.
Step 2
Take a thick sheet of paper or a sheet of thin cardboard that won't break when folded, but will be firm enough. Draw a rectangle, the longest side of which is equal to the measured head circumference plus 1cm for gluing, and the second should be equal to 15cm.
Step 3
Divide the long side into five equal parts, mark these points on both sides and draw parallel lines through them. Mark another along the long line, stepping back 5-7 cm from it. This narrow ribbon will be the rim of the future crown.
Step 4
Draw any freeform crown teeth - they can be just triangles of the same size or curly teeth in the shape of a French royal lily. Do not forget that 1 cm in your length is intended for gluing the crown and do not take it into account in your calculations. Cut the crown along the resulting contour and glue it along the back seam.
Step 5
Dry the glued seam and coat it with gold paint. If there is no such paint, then the crown can be pasted over with foil or painted with ordinary watercolors in yellow. To make it look like gold, add a little brown to the yellow paint, this will give it a shade of noble gold.
Step 6
Dry the paint and then paint the crown according to your idea of royal splendor. In order for it to match them, various beads, rhinestones and sparkles can be glued to its surface, which can be purchased at handicraft stores.
Step 7
Start the solemn coronation, we hope that the measurements were made correctly, and she will not sit on the royal ears, but will proudly flaunt along the forehead.