A wedding decorated in a single color scheme looks stylish and elegant. The main thing is to choose the right main color of the celebration and correctly place accents. You can pick up several shades and combine them harmoniously with each other.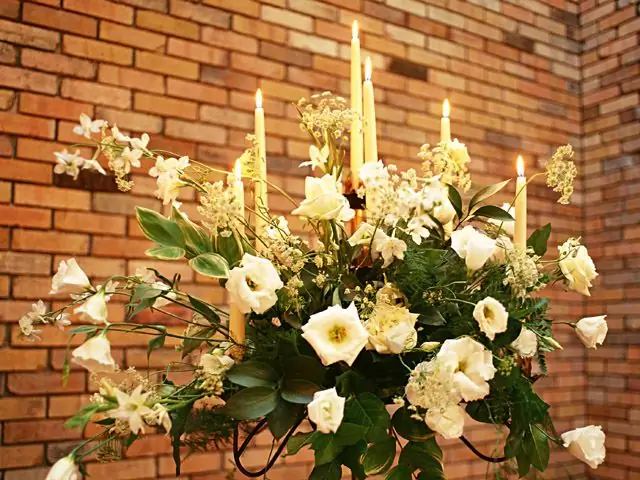 The principles of choosing wedding colors
The choice of wedding color scheme depends on several factors. First, all the preferences of the bride and groom are taken into account. Sometimes the color scheme can be associated with the wedding attire of the couple or with the favorite color of the newlyweds.
Also, the color palette of the upcoming celebration is closely related to the style of the holiday. If the wedding is themed, the style determines the color scheme. For example, a nautical holiday involves the use of blue, light blue or azure colors in decoration. It is difficult to imagine the "Indian fairy tale" without bright colors and gold.
Fashionable wedding trends also play an important role. Each season has its own favorites.
Classic blue
Deep blue is a classic noble color that is perfect for wedding decoration. It is usually used in conjunction with white, skillfully placing decorative accents.
All kinds of shades of blue are very popular: blue, azure, sapphire, cornflower blue.
Tiffany wedding
Tiffany's color has been a leader in wedding colors for more than one year. Thousands of brides around the world choose this delicate mint-turquoise shade for their weddings.
The celebration, decorated in Tiffany color, visually looks sophisticated, luxurious and modern. When decorating, it is usually diluted with white.
Silver accents in the interior are also acceptable.
Berry mix
Berry color and its shades are a good option for decorating summer weddings. This design looks bright, fresh and original.
The summer mood and the general style of the holiday can also be emphasized with elements in the clothes of the newlyweds: the color of shoes or a belt on the dress, the bride's bouquet of flowers of berry shades.
Pink story
Many people perceive pink as a "children's story". This is not entirely true, because there are many beautiful and delicate shades of pink that are great for decorating a celebration.
Weddings decorated in pastel pink colors look gentle and very romantic. Florists at summer "pink weddings" usually use peonies or peony roses, which makes the holiday even more airy and organic.
Natural colors
If the bride and groom are having a wedding in an open space and want to make it as close to nature as possible, you should give preference to green and woody shades.
Greenery, wood and stone in a competent combination look stylish and environmentally friendly. The design uses not only natural colors, but also natural materials: wood, glass, flowers and plants.
Ivory classics
Adherents of the old respectable classics will love wedding decoration in ivory color. It is a warm, muted white, similar to a creamy shade or a coffe-au-lait shade.
Ivory symbolizes tenderness, courage and nobility. A holiday in this style looks solid, elegant and sophisticated. The main color is usually diluted with similar shades and pearl or gold accents in the design.