Balloons are a great option for decorating a room for any celebration. Balloons will add the necessary holiday atmosphere, lightness and fun. And the price of such a decoration is not so high, because it is not at all necessary to hire professional decorators. You can cope on your own.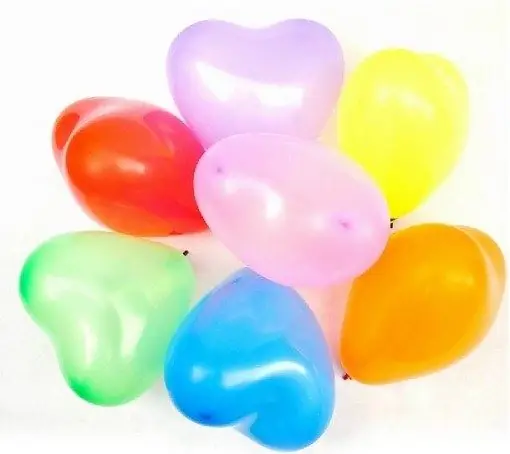 Instructions
Step 1
Balloons will help to give the room a festive look in a short time. For decoration, it is recommended to use no more than 4 shades of the same scale. The colors of the balloons can overlap in color with the walls, interior items, organically fit into the overall picture, or, on the contrary, be strikingly different from the decor of the room. This play of contrasts is often used at children's parties, because kids love everything bright and colorful.
Step 2
Balloons for decoration come in two types: foil and latex. The first ones themselves are very beautiful and bright, they do not create large compositions of them, but are hung one by one. The main thing is that the image on the balloon matches the theme of the evening. Latex balloons are a field for fantasy flight. They are divided into several types: "pastel", "metallic" and "crystal". It is impossible to say which balls are better or worse, it all depends on the event, premises and preferences of the heroes of the occasion.
Step 3
Spheres "metallic" are usually very beautiful saturated shades with the presence of a metallic sheen. Balls "pastel" - matte, opaque have a large palette of shades. They look harmonious in large compositions. Recently, crystal balls have been widely used. They can be translucent or transparent, with or without drawings. Thanks to the rich palette of colors and textures, "crystal" balls can be used to create various colorful compositions.
Step 4
When holding a wedding, it is recommended to make garlands of balls, decorated in the form of a heart, two rings or an arch. It is better to choose colors that are delicate, such as pink and white. It goes well with white with gold and red shades. Balls filled with helium will look appropriate. You can take foil balloons in the shape of hearts and let them fly free to the ceiling, while tying thin threads to them that will hang down.
Step 5
When decorating a room for a corporate event, it is recommended to choose decorations in accordance with the colors of the company. The original solution would be to lay out the company logo from the balls and place several such compositions in different parts of the hall.
Step 6
For children's parties, it is worth choosing balloons with drawings of cartoon characters, as well as inflatable figures. By the way, there are such balloons, which, if inflated with helium and a small weight attached to them, will "walk". They move due to the air currents created by the guests of the event. Various animals are often chosen as walking balls: bears, elephants, giraffes, fairy-tale characters and cartoon characters.