A wedding is one of the most important events in the life of a newlywed couple. That is why the bride and groom want this celebration to be perfect and surprise all guests. Recently, more and more often, future married couples order expensive flowers, elegant tableware for a festive table, a fashionable wedding dress, a suit for the groom and a luxurious car for a wedding. If everything is more or less simple with clothes and serving, then finding an elite car is quite difficult.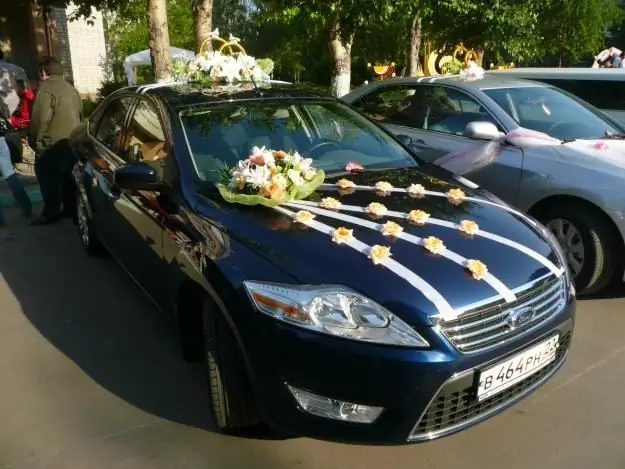 Necessary
- telephone directories;
- newspaper ads;
- access to the Internet;
Instructions
Step 1
Contact the agencies for the preparation and holding of special events. Typically, such offices, among other services, provide premium cars for rent for weddings and anniversaries. Do not forget that this method can seriously hit the pocket of the newlyweds. When looking for more budget options, it is worth contacting a private car owner.
Step 2
Call your friends who have expensive cars. By tradition, relatives, friends and acquaintances always help the newlyweds in organizing the holiday. And by the way, in most cases, they don't charge any car rental fees. And if the owner of the car you like turned out to be an unfamiliar person, then you should first agree on the remuneration for the rental.
Step 3
Take the phone numbers of the taxi services in your city. In most cases, some companies offer business class cars to their customers. If you are satisfied with the price, then you can agree with the dispatcher about the place and time of viewing the offered cars. Do not forget that you need to agree with the driver or taxi dispatcher about the internal state of the cabin, the proposed route on the wedding day, and unforeseen circumstances.
Step 4
Many luxury car drivers themselves offer their services on various internet sites and in newspapers. They are focused primarily on seeing off and meeting official delegations, officials, etc., but with the right approach, the owners of respectable cars can agree to ride the bride and groom.
Step 5
Call car rental companies, many of them offer their customers cars from economy to business classes. Transport lease can be agreed on both hourly and daily. But the only disadvantage of contacting such a driver company you will have to look for yourself.