One of the most important additions to a bridal outfit is hair decoration. The bride can choose a wreath, a separate branch of flowers, etc. Many girls prefer the diadem. However, this spectacular detail of the wedding dress still needs to be chosen correctly.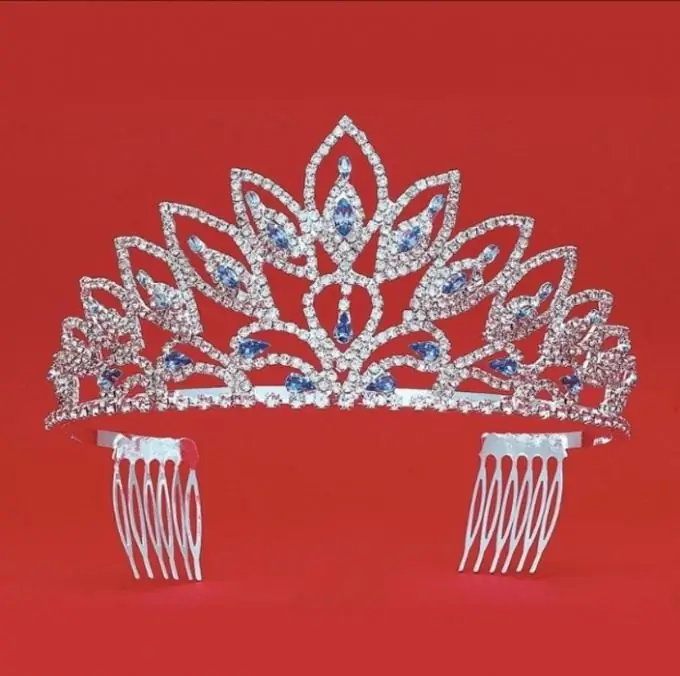 Instructions
Step 1
Choose a tiara according to the shape of your face. If it is round, then it is better to choose a tiara high or with teeth and a "peak" in the center. A low, even tiara can make such a face look even rounder and fuller. But with an oval or elongated face, a diadem with teeth will not work at all - it will make it too elongated. In this case, a low decoration, uniform in thickness, without "peaks" and teeth, is more suitable. With a square face, you should not choose a "crown", in which the main decorative elements are concentrated only in the center. It is better to choose with an even distribution of decor along the entire length. Also, in this case, it is worth preferring a diadem without teeth and "peaks".
Step 2
Match the tiara with your hairstyle. If the hair is long, then you can choose a larger and heavier "crown". With a short haircut, it is better to restrict yourself to a small and light one, since a large tiara on such a haircut will be difficult to securely fasten. The headband is suitable for any length of hair - both short and long. But the tiara-comb cannot be fixed on short hair. It is only suitable for brides with long hair.
Step 3
Choose a tiara according to the color and finish of the dress. A traditional white outfit will be matched by a silver tiara with white pearls or rhinestones. A golden "crown" with darker pearls is more suitable for a golden dress. In general, a tiara with pearls will be more appropriate for a dress of light shades.
Step 4
If the bride has chosen a colored dress (red, blue, pink, etc.), then you can choose a tiara with colored stones to match the outfit. Be sure to pay attention to the pattern on the decoration combined with the decoration of the dress. For example, if it is decorated with floral motifs, it is better to choose a tiara with a floral ornament. And if the dress presupposes the simplicity and severity of the silhouette, then a "crown" with a geometric pattern is well suited.