A wedding ceremony without a wedding ceremony seems incomplete. However, this ceremony, like the wedding itself, is time consuming. Therefore, you should prepare for the wedding in advance and slightly remove in time from the date of the wedding itself.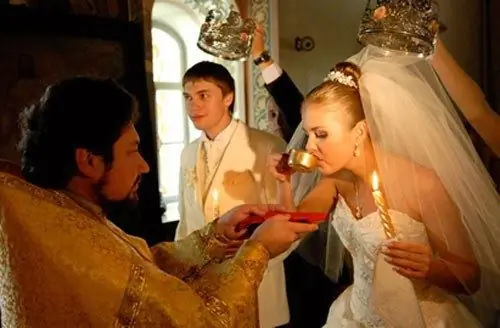 Instructions
Step 1
Decide on the date of the wedding. To do this, go to the church and talk with the priest about the rite itself, find out all the nuances from him, find out if you are definitely allowed to get married or if there are any problems. Make an appointment for the wedding itself. Sometimes in churches there are ready-made wedding schedules, and on the spot you can choose not only the day, but the time of the ceremony. Remember that during the fasts, weddings are not held in the church.
Step 2
If there are wishes regarding a particular priest, then you can sign up for the day on which he conducts the service.
Step 3
Get your bridal outfit ready. The groom has a suit, shirt, shoes. The bride has a white closed long dress, gloves, if the sleeves are short or completely absent, closed shoes, a scarf or scarf, or a veil on her head.
Step 4
Get rings, usually silver. Wedding rings do not differ at all from those that are put on the fingers of the bride and groom in the registry office.
Step 5
Buy wedding candles. They differ from the rest in their considerable height and four scarves under them. Handkerchiefs can be decorated with embroidery.
Step 6
Be sure to purchase the icons of the Savior and the Most Holy Theotokos.
Step 7
Choose the witnesses you need for your wedding ceremony. These should be those people whom you completely trust and who know a lot about you, while remaining loyal friends.
Step 8
Shortly before the wedding, undergo the rite of Confession and Communion. The day before the wedding, observe fasting, chastity. On the day of the wedding, from 12 o'clock at night, the bride and groom should not eat, drink or smoke anything.