Every couple in love needs privacy and romance from time to time. In this case, it is best to spend time at home so that no one bothers or interferes. If you are planning an evening of love, then you should start it with dinner. At the same time, the dishes should be not only tasty, but also easy to prepare. Do not stand idle at the stove for several hours, because you will still need strength for the coming evening.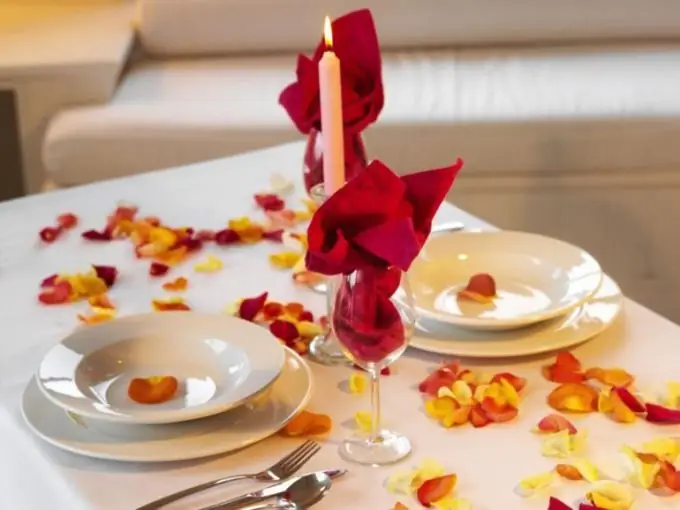 Instructions
Step 1
To increase your appetite, start your dinner with a light vegetable salad. The ingredients for a dish can be the simplest. For example, lettuce (chop coarsely), cherry tomatoes (cut into 2 parts), red onion (chop finely), pitted olives and olives (leave whole), Feta cheese (cut into cubes) - this is the minimum set of products for a delicious salad. Season all ingredients with olive oil, add salt and pepper to taste and mix well.
Step 2
For a more romantic salad, a different option is suitable. The dish will be laid out in layers in the shape of a heart on a flat plate. Each layer must be coated with mayonnaise. But the main components can be anything. For example, boiled chicken fillet; chopped onion; boiled carrots, eggs and hard cheese, grated; as well as boiled beets. This bright vegetable mixed with mayonnaise should complete the hearty composition.
Step 3
When your appetite kicks in, it's time to serve a hot meal. To make it easier for yourself to cook, it is best to use the oven. In it, for example, you can bake pork with potatoes, onions and apples. To do this, rub the lean pork tenderloin (about 1.5 kg) with an aromatic mixture (butter - 1 tablespoon, chopped sage, 1/2 teaspoon salt and pepper) and let it brew for 30 minutes. After that, the meat is modeled with plates no more than one centimeter wide.
Step 4
Peel the potatoes and mode in large pieces. Grease a baking sheet with oil, put the meat in the middle, and around the edges - potatoes and onions, cut into half rings. At 180 degrees, bake the dish for only 20 minutes, and then add the sour apple cut into slices on a baking sheet. We continue to bake the pork with vegetables for another 40 minutes. To find out if the meat is cooked, you should pierce it with a knife. A clear juice will indicate the completion of the process.
Step 5
A romantic dinner will not be complete without dessert, which must be light. Cakes, pastries or cookies should be avoided in this case. The best option is strawberries with cream. You will need heavy chilled cream, which must be whipped (preferably with a mixer) until thickened. Then add the icing sugar to taste. Put the strawberries cut in half in an ice cream glass with cream. This should be done in layers. We send the finished dessert to the refrigerator to wait in the wings.