A wedding is one of the most important and solemn events in the life of newlyweds, which is traditionally accompanied by the use of various alcoholic beverages. The custom of making heartfelt congratulations and eloquent toasts in honor of the newlyweds, of course, requires that guests' glasses be filled with good champagne or wine, worthy of such a significant event. Therefore, the choice of alcoholic drinks for a wedding requires a very careful and responsible approach.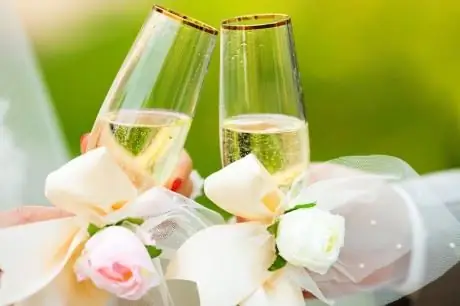 Champagne
Almost no wedding celebration is complete without a drink like champagne. This sparkling drink is always associated with the atmosphere of a special celebration and solemnity. It is drunk at the bride's ransom, after registration at the registry office, during a walk and at a banquet. A few sips of champagne will give you a festive and upbeat mood, so it will be much easier for guests invited from both sides to establish communication with each other.
However, do not forget that champagne is a very insidious drink. A couple of glasses after a few hours can turn into a severe headache, so by the beginning of the festive banquet, some guests, instead of resting and having fun, will be preoccupied with finding a pain reliever.
Of course, you should not completely abandon champagne at a wedding, but during a walk and ransom the bride, it is better to replace it with other low-alcohol drinks, for example, cider, vermouth or dry wine.
Wine
Wine is an integral part of any wedding banquet, but it is quite possible to treat guests to it during a walk - light dry wine is ideal for this purpose. When choosing a wine, one should take into account the preferences of guests and the nature of the festive menu: red wine goes well with meat, and white wine goes with poultry, fish and seafood.
According to the degree of astringency, the wine can be dry, sweet and semi-sweet. Semi-sweet wines are the most optimal option for celebrations, since most of the people who drink wine prefer this particular type.
Vodka
Vodka is a traditional drink that must be present at every wedding. Vodka should be offered to guests only at the festive banquet, since the use of strong alcoholic drinks in the registry office and on a walk is completely inappropriate. Highly intoxicated guests can cause a lot of trouble and spoil the long-awaited holiday for the newlyweds.
Non-standard drinks
Such exotic drinks as rum, whiskey, cognac, martini, gin and others are much less common at a wedding, since it is impossible to guess in advance how many guests will prefer this or that drink.
Serve such alcohol to the table only if you know for sure that connoisseurs will be present among the invited guests. For example, if one of your guests drinks only cognac from alcoholic beverages, then it must be included in the festive menu.
What else do you need to focus on when choosing alcoholic beverages?
When choosing alcoholic beverages, you should also be guided by the season, the style of the wedding and the place where the festive banquet will take place.
If the wedding is to be celebrated in autumn or winter, then there should be more spirits, but in the hot summer period it is better to opt for chilled sparkling wine.
If the celebration of the wedding is carried out in a narrow family circle in nature, then in this case even such a drink that is not quite suitable for the celebration may be quite appropriate, like beer. Many guests outdoors in hot weather are more likely to prefer a cool beer than a hard liquor or wine.
The nature of the wedding celebration also largely determines the range of alcoholic beverages. For example, for a beach party, a variety of alcoholic cocktails can be an ideal option, and specific drinks like brandy or vodka will certainly be present at a national wedding.