In the age of business relations, one can only dream of a calm and measured life. A resident of a modern metropolis is forced to be in constant motion, thereby exposing himself to everyday stress.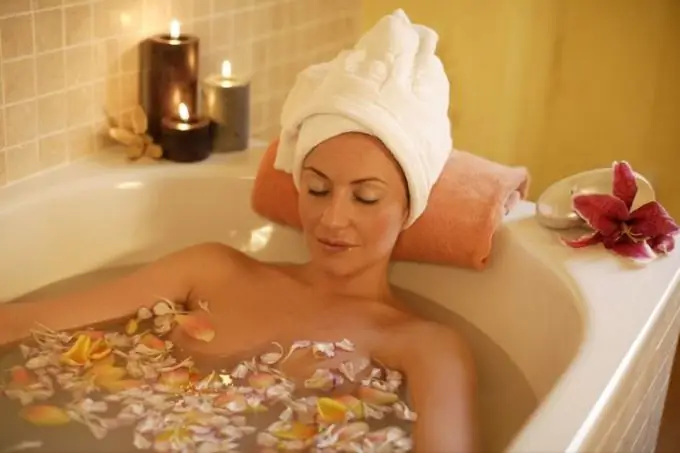 Stress haunts in public transport, at work, in a store, in a bank, in a hospital - in general, everywhere, anywhere. If you do not take any measures and sometimes do not allow yourself to relax, then stress can turn into the cause of the appearance of some very serious illness.
A relaxing bath is one of the best ways to relieve emotional and physical stress. This is an easy and at the same time pleasant way to relieve the accumulated fatigue and recharge your strength for new victories.
The effectiveness of a relaxing bath on the body fully depends on the temperature of the water. Too hot water can dry out the skin, while colder water invigorates the body and gives new strength. The most suitable temperature for a relaxing bath is around 37 ° C. You should take a bath before going to bed, and this procedure can last from 20 to 40 minutes.
Herbal bath
In order to prepare a relaxing herbal bath, you can purchase so-called herbal preparations at any pharmacy - dried mint, eucalyptus, wormwood, lavender and many other plants. So, for example, lavender infusion perfectly helps to relieve fatigue and tension, and also works effectively for headaches, muscle pain and insomnia. Sage and eucalyptus are taken for colds or for muscle strains. It is not difficult to prepare an herbal infusion - just pour boiling water over a glass of dry herbs and insist for two hours, then strain the infusion and add it to the bath.
Essential oil bath
A few drops of essential oil added to the water will fill the bathroom with a superb, soothing scent and will heal the tired body. Pine or eucalyptus oil not only soothes, but also helps with colds, citrus oil or rosemary oil invigorates and gives new strength. Clove, fir or juniper oil will be useful for those who fight cellulite, while sandalwood and jasmine oil rejuvenates and tones the skin.
Take a bath with essential oils two to three hours after eating. Before plunging into a fragrant, relaxing bliss, you need to take a shower and wash off all your makeup. Oil is added to the bath at the rate of 1 drop per 20 liters of water, so 10 drops of oil are enough for a standard size bath. It is important that the surface of the bath is thoroughly free of synthetic detergents.