Almost immediately after the New Year's "holidays", women begin to think about what to give men for Defender of the Fatherland Day. And if it is not difficult to bring joy in the family circle - you just need to let your husband go to the bachelor party, cook a delicious dinner, free you from household chores, then it becomes more and more difficult to be original at work every year.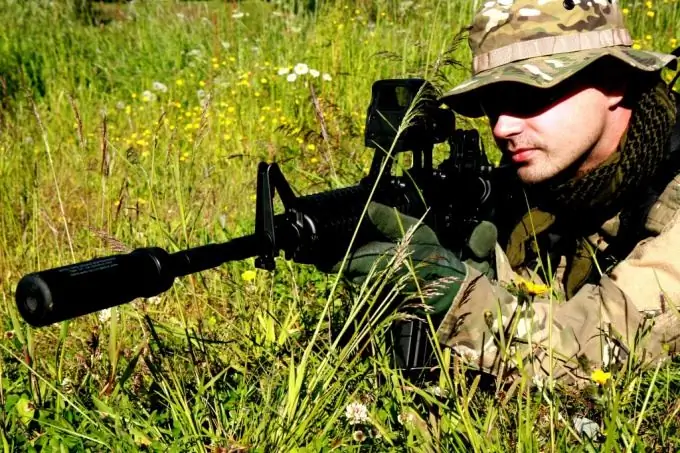 Instructions
Step 1
Decorate your office in a themed style ahead of time. Green balls, over the door - a protective net, the flag of the country. On the table for each man, you can put a soldier's triangle in advance with the words of congratulations from all the women of the company. It is advisable to write them by hand and in blue ink.
Step 2
You also need to decide whether you will set the table for your men or not. If you do decide to cover, ask in advance what kind of alcohol they prefer, otherwise the mood of beer lovers who are forced to drink vodka or wine will be a little spoiled. You can make personalized bottles for everyone by sticking original labels reflecting the character of a man or his surname.
Step 3
Surprise men with an unusual snack. Give up traditional canapes or sandwiches, instead arrange a themed holiday: in Russian folk style - with pancakes and mead, Japanese - sake and sushi, oriental - with lamb pilaf and samsa.
Step 4
Instead of boring toasts and congratulatory verses from postcards, come up with a funny congratulation with the women of the company. For example, you can, wearing caps or military uniforms, sing a song about the army and your male defenders. Girls who have good vocal abilities or dance well can show a full-fledged concert number - for example, "Soldier's Waltz". And don't forget to invite the director of the company to dance.
Step 5
If there are a lot of men and only 3-5 women, you can do without a concert, but spend this holiday with games and jokes. Arrange a fun lottery, where prizes will be things that even remotely resemble military service - a soldier's belt, stew, a pack of "Prima". And men will not be forgotten, and gifts will go to everyone, and have a lot of fun. Play some games that reveal the secrets of your men or their relationship to women. Prepare funny quatrains on this topic, put them in a hat and have them pull them out of their hat and read them at a banquet. It is possible, of course, to prepare in advance musical excerpts from different songs, and when someone puts on a hat, at this moment some passage is included, as if illustrating a person's thoughts.
Step 6
If you are at a loss in choosing a gift, prefer to give a symbolic souvenir associated with the defense of the Fatherland. You do not need to give a set of hygiene products for the hundredth time, it is better then get solid beautiful key holders or purses, belts or lighters, certificates to a fitness club. And of course, gifts for the director and ordinary employees of your department should be different. Among the original gifts are watches with company symbols or a comic cartoon image of each man, a corporate calendar for 12 months with interesting photographs of your men and aphorisms-captions to the photo, pillows or mugs with a poetic comic wish and a picture of each employee.