What is the best way to prepare for the most magical holiday of the year if you decide to celebrate it at home? The New Year will joyfully and solemnly enter the house where joy, goodness and happiness reign. The pre-holiday bustle is maddening, leading to nervous breakdowns and quarrels with loved ones. To avoid this, you need to prepare for the New Year in advance.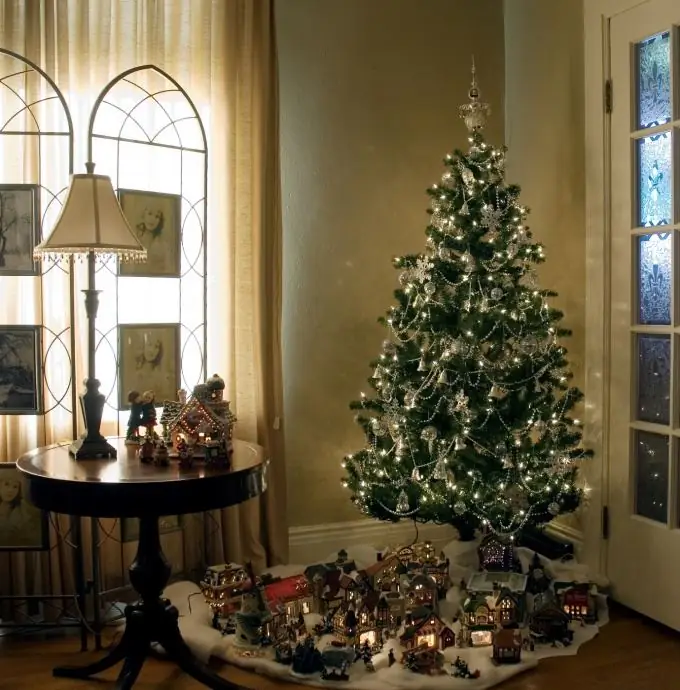 It is necessary
- notebook, pen;
- foil, wrapping paper, bags - for gifts;
- Christmas decorations for the tree and room;
- fancy dress costumes, caps, noses, whistles;
- stationery and decorative ornaments - for making crafts;
- fairy tales, cartoons, board games;
- prizes for competitions;
- photo camera, video camera;
- gifts for family and friends.
Instructions
Step 1
Three weeks before the new year, you need to: - gather the whole family at a round table and distribute responsibilities, write them on a large sheet of the calendar and fix them in a prominent place. Let everyone who has completed something put a note with a felt-tip pen that it is already ready;
- discuss the festive menu and cooking times. If friends come to your home, let them also prepare something in advance and bring it. The grandmother can occupy the kitchen in the morning, and the mother - in the afternoon, by the evening the children will be busy decorating the dessert. Thus, you will avoid confusion and confusion in the kitchen;
- determine on what day you will decorate the house, who will be responsible for the installation of the Christmas tree, who for the garlands, who for the snowflakes;
- start folding wrapping paper, foil, bows and bags in a secluded place, you can also store gifts here;
- Discuss the exact list of guests, whom you would like to invite, who might drop by by chance, whether friends will come to your child;
- if New Year's Eve promises to be unusual, then think about what you will wear. Perhaps you haven't put on a masquerade for a long time;
- the most important thing is to plan your holiday budget. Talk to your husband / wife how much you can count on. If you are celebrating the New Year with friends, then the required amount must be divided among all the participants of the holiday so that no one is offended;
- if you dream of visiting a hairdresser, getting a manicure - now is the time to sign up. After that you will not have time.
Step 2
A couple of weeks before the holiday: - Go shopping for food and gifts. As long as the queues in stores are not so long, you can easily buy everything. Before buying, carefully study the prices, sometimes they turn out to be unreasonably high, in which case you will have the opportunity to walk around and choose other stores;
- in order not to be mistaken with the choice of gifts, conduct reconnaissance in advance. Perhaps the children wrote letters to Santa Claus with their desires, the husband casually mentioned something, and friends love surprises. Try to make purchases on weekdays and during the daytime, this period eliminates the hustle and bustle;
- and also get a few small inexpensive presents in reserve: statuettes, magnets, souvenirs, a bottle of wine or sauce, a disc with films - for those who may unexpectedly visit you;
- now see if everything is in stock for decorating the room. Do the garlands work, is there enough rain and tinsel. If the jewelry isn't enough, it's time to get it. Do not forget about clown noses, caps and whistles to cheer everyone up;
- work on the holiday program. What contests can be held for a child and his friends, where to arrange a place for dancing, how to entertain guests at the table. Perhaps after midnight you will all go outside and dance around the tree or make snowmen.
Step 3
A week before the "magic": - decorate the room with your family and friends;
- pack gifts and hide them in secret places;
- Deliver gifts to relatives who will not be able to visit you;
- buy batteries for cameras and video cassettes;
- Arrange for children a place for games and handicrafts, let board games be held as contests for a sweet valuable prize. Show the kids how to make New Year's crafts and souvenirs;
- try to solve all the remaining problems - at work, in your personal life, within yourself. Make peace with the one with whom you are quarreling;
- stock up on fairy tales and cartoons for children;
- think about how you will spend your time after the holidays, will you go on a visit or go skiing, or the whole family will go to the theater for festive performances;
- take some time for yourself, put your mind and body in order, sit back a little. So, everything is ready, everything is collected. Happy New Year to you!